Rye shortbread cookies with tahini and chocolate chunks.
Chocolate chunks, rye flour, tahini paste, sesame seeds...
These cookies, inconspicuous in appearance, are a rich interior and a real explosion of flavors. Already after the first bite I am craving for the next cookie and I wonder if these 20 pieces are not enough?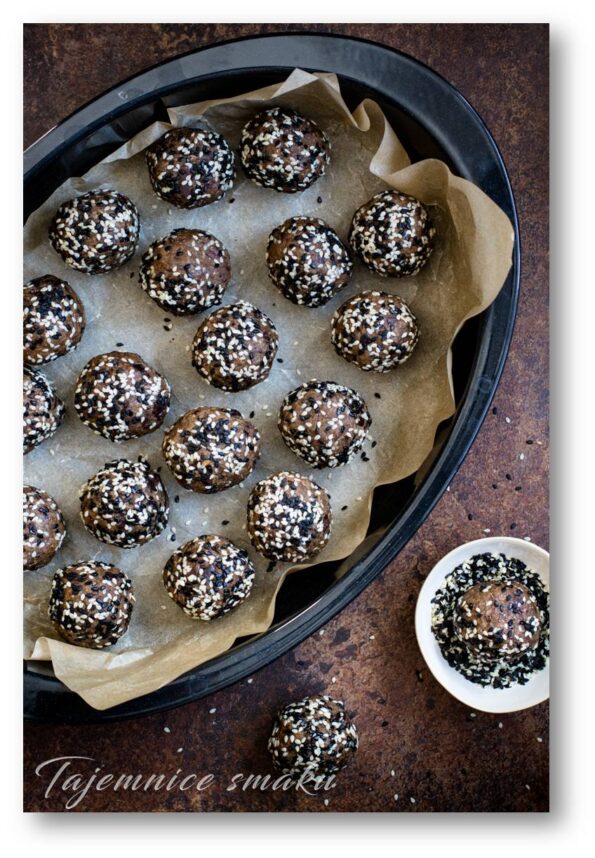 Before you start baking, read the recipe to the end. Bake the cookies with a small pause, in which you take the hot baking sheet out of the oven and bang it flat on the countertop or on the table. This is a little trick that will make the cookies bake perfectly.
Sesame tahini paste, white and black sesame seeds and Muscovado sugar can be found in online stores, including Cooks of the World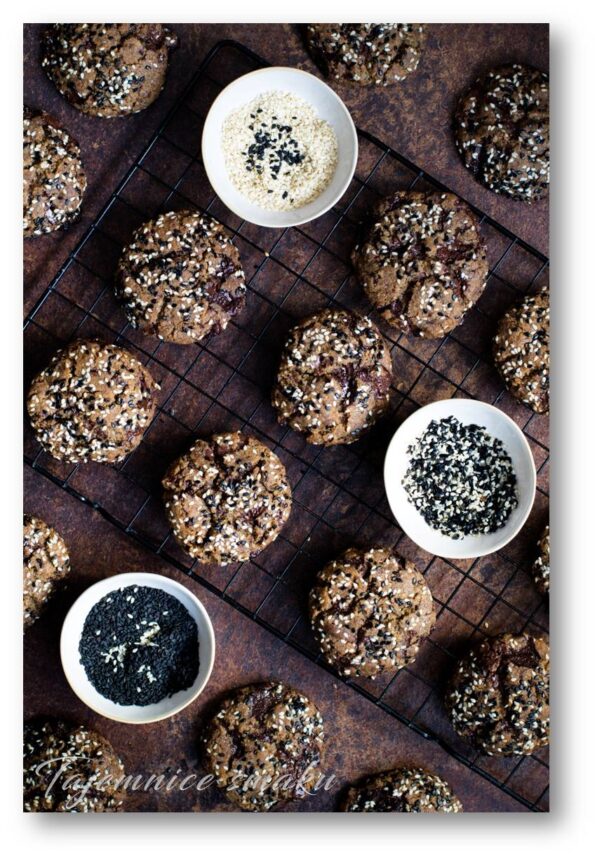 Ingredients
120 g wholemeal rye flour type 2000
100 g rye flour type 720
1/2 teaspoon baking powder
1/2 teaspoon soda
1/2 teaspoon salt
150 g cane sugar
50 g dark Muscovado sugar
70 g sesame tahini paste
100 g butter
1 egg
200 g dark chocolate 70%
White and/or black sesame to coat the cookies
Making
Chocolate is chopped into small pieces.
Take the butter out of the refrigerator beforehand to make it easier to grate.
In a bowl mix both flours, baking powder , baking soda and salt.
In another bowl, mix butter, tahini sesame paste and sugars for about 5 minutes. Add the egg and mix for another 5 minutes. Then add the loose ingredients and mix until combined. Finally, add the chopped chocolate and mix, preferably with a spatula, until the chocolate is combined with the batter.
Dough is divided into 20 portions and from each portion roll a ball. If you like the cookies to be the same size you can weigh the portions before rolling (1 portion is about 41 g ). Coat the balls in sesame seeds, place in a bowl or other container. Place in the refrigerator for about 4 hours or overnight.
Preheat the oven to 210/220°C (some ovens may be 190/200°C).
Place the cold balls of dough at considerable intervals on a baking sheet lined with baking paper. The cookies bake for a very short time, so it is best to bake them in two rounds. Bake the cookies for 10 minutes. After 7 minutes, remove the baking sheet from the oven and bang it (flat) a few times on the stovetop so that the cookies flatten and crack slightly Put back in the oven and bake for about 3 - 4 more minutes. The cookies are soft after this time, so we remove the baking sheet from the oven and leave the cookies on it for another 10 minutes. Then we transfer the cakes to the griddle and cool. We do the same with the second portion of the dough.
Tasty!
Inspiration The Boy Who Bakes
also check
Comments