Dairy-free pancake batter - beer pancakes seasoned with nutmeg, stuffed with cabbage and mushrooms
Croquettes with sauerkraut and mushrooms are great with red borscht. They taste best fried in egg and bread crumbs or in a less caloric version, i.e. without coating.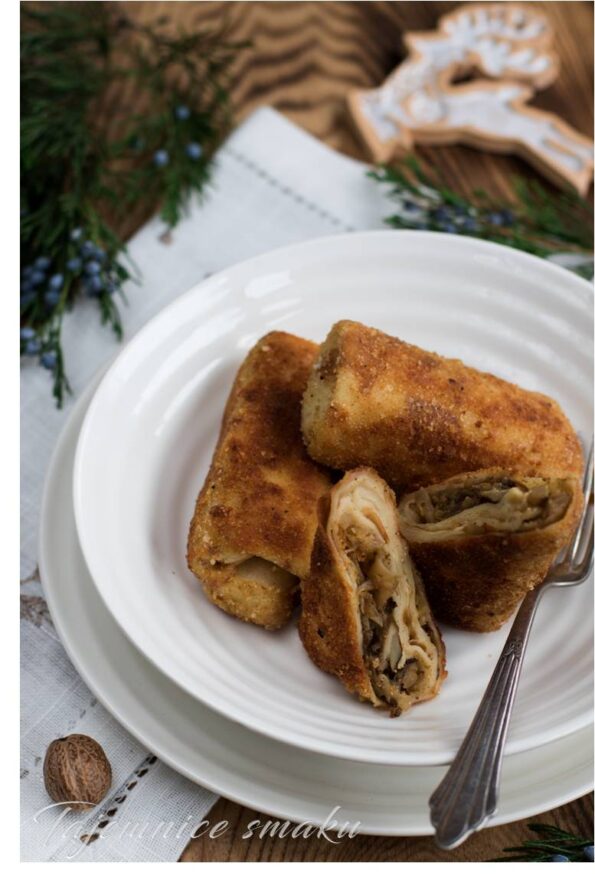 Which pancakes to go with croquettes? In my house for years there has been a division into traditional and savory pancakes. Traditionally, these are the ones with milk and water, while in dry ones I replace milk with light, light or non-alcoholic beer and add nutmeg.
In such beer pancakes, when you run out of stuffing, you can put a slice of cheese, sausage, roll up and fry.
INGREDIENTS
pancakes
250 g flour type 500
250 ml light lager or non-alcoholic beer (or traditionally milk)
250 ml of water
2 eggs
30 g butter, melted and
1/2 teaspoon of salt
1/2 teaspoon of sugar
1/2 teaspoon ground nutmeg
frying oil
STUFF
500 g sauerkraut
100 g of dried mushrooms (boletus, boletes)
150 g of onions
1 tablespoon oil
salt, pepper to taste
EXECUTION
STUFF
The mushrooms are poured with hot water and left to soak for about 12 hours.
Then boil the mushrooms in the same water in which they were soaked and leave to cool.
Strain through a sieve, do not pour out the water.
Pour the cabbage with water until it is covered and cook for about 30 - 45 minutes or until tender, then let it cool down.
Squeeze the cooked and cooled cabbage from the liquid and chop.
Slice the drained mushrooms finely.
Slice the onion and fry it in oil in a large frying pan.
In the course, add chopped mushrooms, season with salt and pepper.
Add the cabbage, mix and fry for 10 - 15 minutes over medium heat. You can add water from the mushrooms during frying for taste, but be careful so that the stuffing is not too bitter.
Season the stuffing to taste and let it cool down when it evaporates.
CROQUETTE PANCAKES
Combine all ingredients for pancakes, mix with a whisk or blend until smooth.
Pour a little oil into the pan and smear it with a paper towel.
Fry thin pancakes on both sides until golden.
To fry the next pancakes, I recommend wiping the pans with a paper towel previously soaked in oil.
CROQUETS
We put a portion of stuffing on each pancake, 1-2 tablespoons, depending on the size of the pancakes.
Fold the sides of the pancakes inwards and roll up the croquettes.
Croquettes can be fried in clarified butter with or without egg and breadcrumb coating.
Croquettes with cabbage and mushrooms are a perfect addition to red borscht.
also check
Comments