Rice dessert with seasonal fruit and caramelized cashew nuts
How to prepare dessert from rice? It is very easy. We cook glutinous rice in coconut milk with the addition of coconut sugar. When you get the consistency of pudding, let it cool down and chill it in the fridge. The rice mass after cooling becomes thick enough that we can roll balls out of it. Such sweet rice balls are rolled in coconut flakes and served with fruit, fruit sauce and caramelized nuts.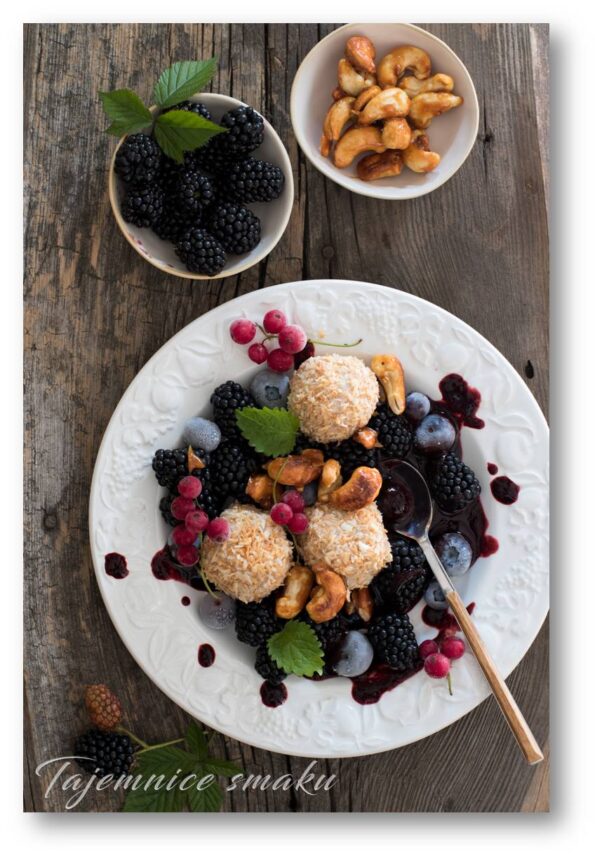 It's a very tasty and healthy dessert, to which we can add seasonal or frozen fruit. Instead of cashews, we can caramelize other favorite nuts or even pumpkin or sunflower seeds.
I recommend sushi rice for dessert, it's sticky and it's easy to make balls out of it. Good sushi rice, coconut milk, coconut sugar, coconut flakes can be bought in larger stores or online, e.g. /p>
Ingredients
RICE
250 ​​g sushi rice
1 liter of coconut milk
250 ​​ml of water
50 g coconut sugar
10 g coconut flour
FRUIT
500 g of fruit (raspberries, blackberries, blueberries, currants, strawberries) fresh or frozen
1 tablespoon of coconut sugar
80 - 100 ml of orange juice (preferably freshly squeezed)
SHRAPS AND CASHEW NUTS
100 g desiccated coconut
50g of sugar
100 g cashews
Execution
Rinse the rice in a sieve abundantly under running water. In a saucepan, boil water with sugar, add coconut milk and rice, mix. Cook over low heat for about 20 - 30 minutes, stirring occasionally. When the rice is quite thick, add coconut flour, mix and remove from heat. Let it cool without a lid, then chill it in the fridge for at least 2 hours.
In the meantime, we clean the fruit. Mix a large handful of selected fruit (blackberries in my case) and, if you don't like the seeds, rub them through a sieve. Mix with sugar and orange juice.
Toast the coconut shavings in a dry and hot frying pan until slightly golden, pour into a bowl. In the same pan, roast the cashews and also put them in a separate bowl. In a pan, dissolve 50 g of sugar, add roasted cashew nuts, mix and spread on baking paper. When they cool down, we can coarsely chop them.
With wet hands, form balls from the chilled rice pudding and roll them in desiccated coconut. Pour a portion of fruit sauce on a plate, put a few rice balls, add fruit and decorate with caramelized nuts. It's delicious!
also check
Comments