Recipe for rhubarb tincture with the addition of strawberries and oranges. Homemade preserves - tinctures
Rhubarb tincture can be prepared only from rhubarb itself, it is also tasty. However, I recommend adding strawberries and oranges to the rhubarb. Strawberries are in season around the same time as rhubarb, and oranges can still be bought juicy and tasty. For my tincture, I used organic Sicilian oranges, which season ends in May.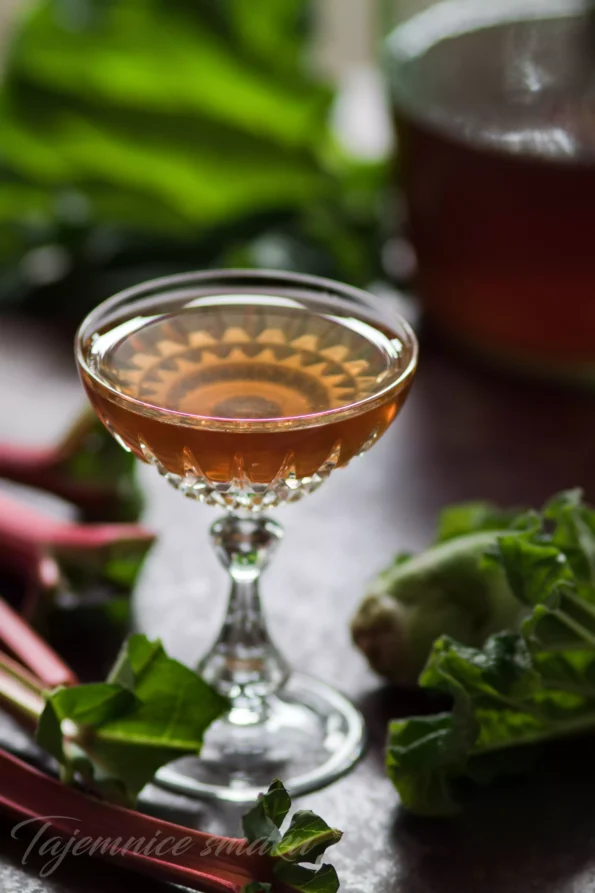 INGREDIENTS
1 kg of rhubarb stems
250 g of strawberries
2 - 3 oranges - pulp and peel
2 tablespoons of lemon juice
400 g of sugar
1 l of 70% spirits
1 vanilla pod, halved lengthwise - optional
EXECUTION
Rhubarb stems are washed and dried, in this recipe it is not necessary to peel the rhubarb.
Clean the strawberries, rinse, drain and cut off the stems.
From the washed and dried oranges, cut or grate the skin without the white albedo, from which we then peel the fruit.
Rhubarb, strawberries and oranges are cut into pieces and placed in a jar or demijohn.
Add sugar, grated orange peel, lemon juice, vanilla pod, pour alcohol, close tightly.
Leave it in a dark and cool place for 3 - 4 weeks.
From time to time, shake the jar so that the sugar dissolves completely.
 After 3 - 4 weeks, decant the liquid from the fruit, filter it, pour it into bottles and leave it in a dark and cold place for at least 3 months.
The remaining fruit from the tincture is still worth using. We can rub them through a sieve to get a puree. From such a fruity, slightly alcoholic mousse, we can prepare delicate, refreshing drinks for adults for a summer evening. Just dilute the fruit puree with sparkling water, add ice cubes and you're done.
also check
Comments