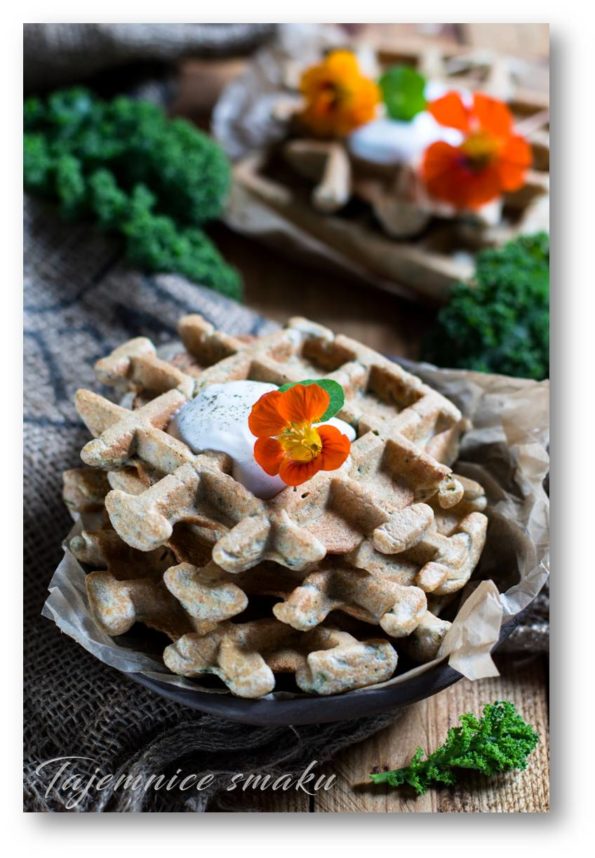 Kale is very healthy and rich in vitamins and micronutrients. So it is worth including it in our diet, especially now, in autumn and winter when it is in season.
From the prepared batter we can bake waffles or, when we do not have a waffle iron, fry small pancakes in a pan.
Serve the kale waffles with a salad or salad. We can also coat them with yogurt or cheese and serve them, for example, with nasturtium flakes, which have a peppery flavor, similar to watercress.
They can also be topped with yogurt or cheese and served with, for example, nasturtium flakes, which have a peppery taste similar to watercress.
Ingredients
100 - 150 g of kale - weight of leaves alone, without stems
2 shallots - about 50 g
2 cloves of garlic
30 g of butter for the batter + 15 g to fry the kale
3 eggs
250 ml milk
300 g spelt flour
1 teaspoon of baking powder
salt, pepper
oil to grease the waffle iron
Make
We wash and dry kale leaves and finely chop them. Peel and finely dice the onion, peel the garlic and crush it to a puree. In a heated frying pan, fry onions in butter, add garlic and chopped kale leaves. Season with salt and pepper and fry for a while, just until the liquid from under the vegetables evaporates, remove from the heat and cool.
Mix flour, baking powder, milk, soft butter and eggs together into a smooth batter. Add the sautéed and cooled kale to the batter, mix gently.
Then add the kale to the batter.
We preheat the waffle iron.
Grease the top and bottom plates of the waffle iron with a small amount of oil, the best way to do this is to use a brush.
Put the batter in portions into a well-heated waffle iron, bake until golden. When ready, transfer to a griddle to cool.
Serve, for example, with yogurt sauce, salad or salad.
Tasty!
also check
Comments