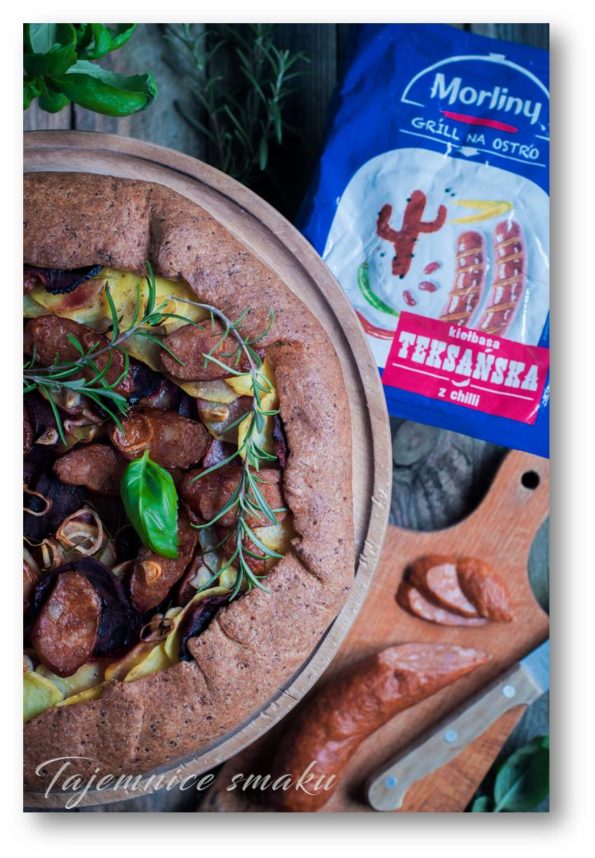 Rustic tart galette is one of my favorite pastries. It is very simple to make, we do not need a mold, and the dough can be prepared the day before and kept in the fridge.
I usually prepare a sweet galette with fruit. This time I propose a savory version with herbal ricotta, potatoes, beets, shallots and spicy sausage.
Ingredients
CAKES
250 ​​g spelled flour
1/2 teaspoon baking powder
1/4 teaspoon of salt
150g butter
100 g of cottage cheese (semi-fat cottage cheese)
2 tablespoons of natural yogurt
2 teaspoons of apple cider vinegar
FILLING
150 g of ricotta cheese
1 garlic clove
1 tablespoon chopped fresh herbs (rosemary, basil)
salt
pepper
2 fresh potatoes
1 fresh red beet
1 shallot
2 sausages  - Texas Sausage with Morliny Chili
1 tablespoon of olive oil
Execution
CAKES
Butter cut into cubes with a side of about 2 cm, wrap in foil and put in the freezer for hour. Pour flour, salt and baking powder into a foil bag, we also freeze the hour.
After After an hour, transfer the frozen dry ingredients to a food processor and blend 30 seconds, add the cottage cheese and mix for about 20 seconds. We throw in frozen cubes of butter and mix for a short while until the so-called wet sand. Add 2 tablespoons of natural yogurt and apple cider vinegar and mix until the weight will start to swell slightly. Transfer the dough to the board and knead quickly. We wrap the cling film, flatten it to get the shape of a disk, insert it in the fridge for an hour (the cake can stay in the fridge for up to 2 days).
FILLING
Peel the garlic, grate o fine mesh or crush, mix with ricotta cheese, herbs, a pinch salt and pepper. Peel the beets, potatoes, shallots and cut into thin slices slices. Cut the sausage into slices.
Take the dough out of the fridge and unwrap it from the foil and place on baking paper sprinkled with flour. Roll the dough through foil in which it was cooled to a disc with a diameter of about 40 cm. Spread in the middle seasoned with ricotta to form a circle with a diameter of about 30 cm. Lay the slices on top potatoes, beets, sausages and shallots, salt and pepper. We fold the edges of the dough up, we do folds to cover part of the stuffing. Drizzle with olive oil and bake in an oven preheated to 200°C for about 40 minutes.
Enjoy!
also check
Comments