<! - wp: image {"id": 2773, "sizeSlug": "medium"} ->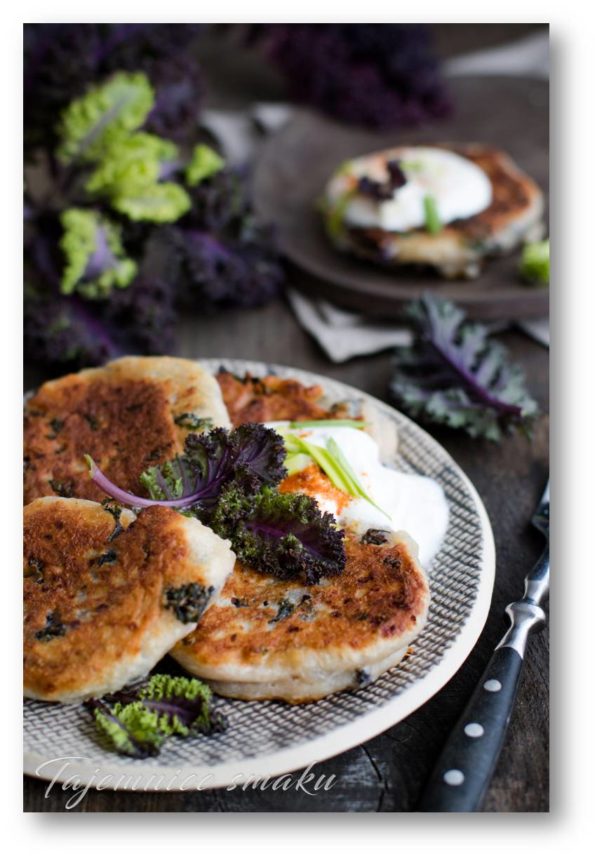 <! - / wp: image ->
Dry yeast pancakes with cottage cheese and kale are an idea for a filling vegetarian dish. Kale left for the winter in the place of cultivation in early spring, it produces leafy young shoots. This is one of the first field vegetables. During this period, the kale leaves are tender and very tasty.
Ingredients
START
50 g of flour
20 g of fresh yeast
100 ml of milk
1/2 teaspoon of sugar
RACUCHES
leaven
300 g of flour
100 ml of milk
200 g of cottage cheese
30 g of melted butter
1 egg
100 g of kale leaves (no thick stalks)
a pinch of salt
frying oil
SOS
300 g of yoghurt
a pinch of powdered chili
1 crushed garlic clove
chopped chives
salt
Execution
START
Crumble the yeast into a bowl, add milk and sugar, we mix. When the yeast dissolves, add the flour, mix, cover and set aside in a warm place for about 15 minutes.
SOS
All the ingredients for the sauce are mixed, tasted and possibly we season it as we like. Put it in the fridge.
RACUCHES
Pour boiling water over the kale, then strain it after 2 minutes pour cold water. Dry and chop. Shred the curd with a fork.
Add flour, milk, egg, cottage cheese, butter and salt to the leaven and mix. Then add chopped kale, mix again, cover and set aside in a warm place for about 60 - 90 minutes, until the volume is doubled.
Scoop dough portions with a spoon and fry in hot oil, golden brown on both sides. Serve with garlic yoghurt sauce.
Enjoy your meal!
also check
Comments