<! - wp: image {"id": 2479, "sizeSlug": "medium"} ->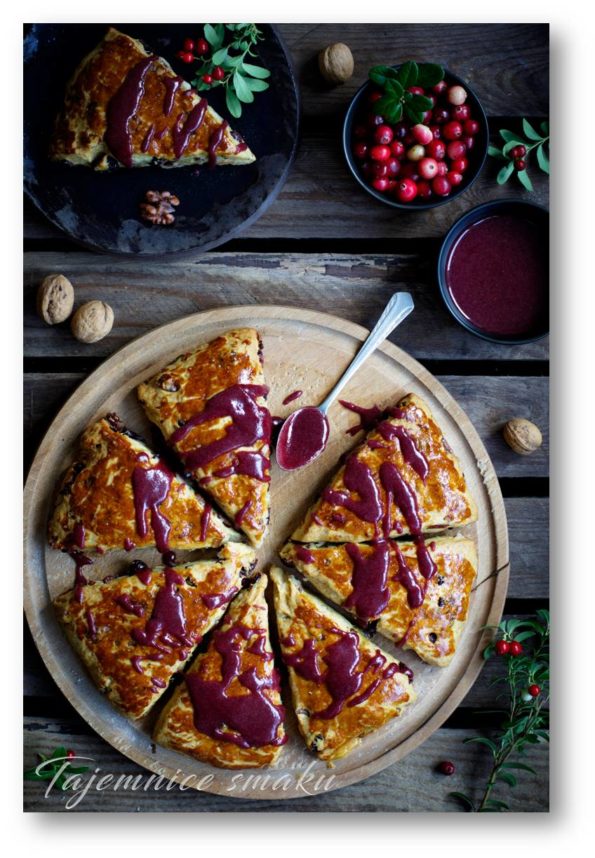 <! - / wp: image ->
Scones are popular shortbread rolls in the UK. They are served with afternoon tea or for breakfast. Scones can be prepared without sweet additions, then we serve them cut in half and spread with jam. Those with the addition of fruit and icing are a complete dessert.
In the recipe for "cranberry scones" I smuggled the cranberries twice, added the dried one inside, and the freeze-dried powder into the icing. The recipe is very quick and easy to prepare.
Ingredients on 8 rolls
SCONES
250 g of spelled flour
1 teaspoon of baking soda
1 teaspoon of baking powder
a pinch of salt
60 g of butter
150 g mascarpone cheese
50 g of walnuts
100 g of dried cranberries
20 g of honey
1 egg - yolk and egg white separately
CRANBERRY GLAZER
100 g of powdered sugar
5-10 g of freeze-dried cranberry powder
2 - 3 tablespoons of water
Execution
SCONES
Mix the flour with baking powder, soda and salt. For flour add the butter cut into pieces and rub it with your fingers together with the flour. Protein Whip lightly, mix with honey and mascarpone cheese. Add the mixture to flour and knead until the ingredients combine. We add cranberries with nuts and more knead once.
Form a ball of the dough, then on it sprinkled with flour a pastry board with a diameter of about 20 cm. Cut into 8 pieces (like a pizza) and transfer them gently to a lined baking tray baking paper. We lubricate egg yolk and bake in an oven preheated to 220 ° C for about 15 - 20 minutes until golden brown.
When they cool slightly, pour the cranberry icing.
CRANBERRY GLAZER
We mix powdered sugar with powdered freeze-dried cranberry. Gradually add the water and use a spoon to thoroughly mash until smooth consistency. Lightly pour the finished icing cooled buns.
Enjoy your meal!
also check
Comments