Donuts over donuts from Monika Walecka
February Amber Bakery and Monika Walecka's donuts. When I first read this recipe, I was confused. I thought, it's a bit complicated, but I'm not giving up so quickly! It was worth it because - to quote Monika - "...with the first bite, we are already planning the next time, when we will make these and only these donuts".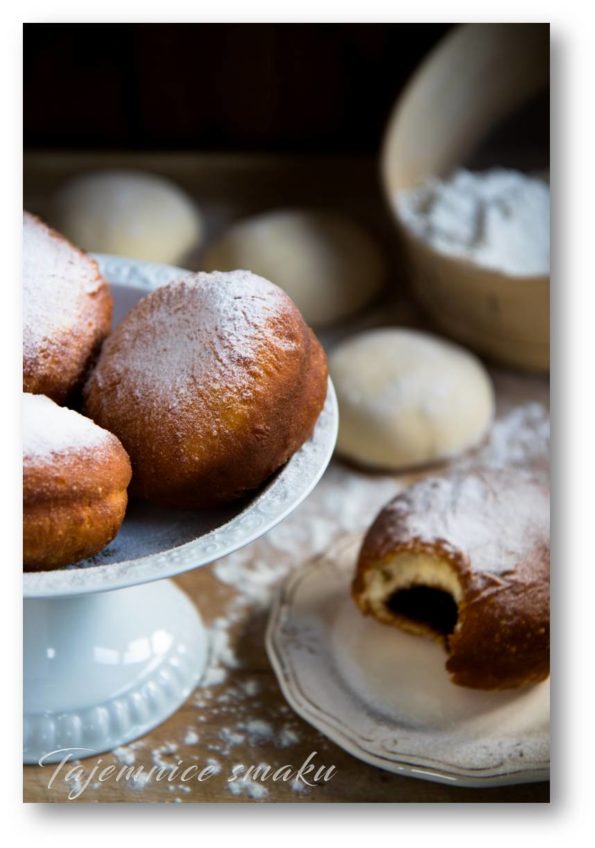 The recipe is not difficult, all you need is a good plan and patience. Once you get through all the stages, you won't regret it. Donuts are insanely delicious, they stay fresh for a long time, they are... perfect!
Schedule for Fat Thursday:
Tuesday evening - feeding sourdough starter (set aside for 12 hours)*
Wednesday morning - prepare leaven and levain (set aside for 8 hours).
Wednesday evening - prepare the proper dough (put it in the fridge for 12 hours, overnight)
Thursday - Budding!
* If you have fresh, strong sourdough, you can start from Wednesday.
Monika Walecka's sourdough donuts (All in Flour)
Ingredienti for 12 large donuts
LEAVEN (12 hours)

1 tablespoon of active sourdough starter
2 tablespoons of wheat flour type 550
2 tablespoons of water
LEAVEN(8 hours)

1 pea-sized ball of fresh yeast
1 cup of wheat flour type 550
1/2 cup of milk
LEVAIN  - wheat sourdough (8 hours)
1 tablespoon of sourdough starter (fed at least 12 hours earlier)
1/2 cup flour type 550
1/4 cup of water
THE CAKE
leaven
levian
3/4 cup of milk
2 cups of flour type 550
25 g powdered sugar
pinch of salt
30 ml of rum
3 egg yolks
6 g fresh yeast
75 g of butter
ADDITIONAL
1 liter of oil
powdered sugar
jam or preserves for filling (I used homemade cherry jam)
Execution
LEAVEN  We feed the sourdough. I didn't have wheat sourdough, so I added 2 tablespoons of wheat flour and 2 tablespoons of water to 1 tablespoon of rye sourdough, mixed it, covered it with gauze and left it for a minimum of 12 hours at room temperature.
LEAVEN  Mix all ingredients in a bowl until smooth, cover with cling film and leave to ferment for at least 8 hours.
LEVAIN Mix all ingredients in another bowl until smooth, cover with cling film and leave to ferment for at least 8 hours.
PROPER DOUGH Pour milk into a bowl, add leaven and levian, fresh yeast and mix until combined they will dissolve. Add the flour, mix, cover the bowl and leave for about 30 minutes.
After this time, add powdered sugar, a pinch of salt, rum and egg yolks to the dough. Knead for about 7 minutes, preferably using a mixer with a hook. The dough should become smooth and begin to pull away from the sides of the bowl.
Take the butter out of the fridge, put it in a bag and use a rolling pin to beat it until soft. This will make the butter plastic but stay cold. Cut the whipped butter into small pieces and add to the dough. Knead on low speed for another 7 minutes, until the dough "absorbs" the butter. Finally, knead the dough for a few minutes on the pastry board, form it into a ball and put it into a greased bowl, cover it with foil and put it in the fridge for about 12 hours (e.g. overnight).
After this time, we take out the bowl with the dough and leave it for 2 hours at room temperature. Divide the thawed dough into 12 parts, form each into a ball, place on a board lightly sprinkled with flour, cover with a cloth and leave for about 20 minutes.
Then, we flatten each ball, put a teaspoon of filling (jam) in the middle, glue the edges and form a ball again. Place on a floured board, flatten slightly and leave to rise, covered with a cloth for about an hour.
Heat the oil in a pot (about 175°C). Carefully put the risen donuts into the hot fat and fry on both sides until golden brown. Drain the fat on a paper towel. When they cool down, sprinkle with powdered sugar.
Enjoy!
Donuts on blogs:
CzteryFajery.pl< /a>
Lilies of the valley in the kitchen
Alicja's kitchen
Brenia's kitchen
Gucio's kitchen
Kitchen door
Gardens of Babylon
My Little Magic
In Search of SlowLife>
also check
Comments