Recipe for homemade green pesto. Wild garlic, almond and pistachio pesto
The classic pesto is pine nuts, garlic, basil, olive oil and Parmigiano Reggiano cheese, ground in a mortar. This recipe is another variation on pesto. We replace the basil with wild garlic, and the pine nuts with almonds and pistachios. We can only use almonds, but I had an open package of pistachios, so I decided to use them. Parmesan can also be replaced with another hard cheese.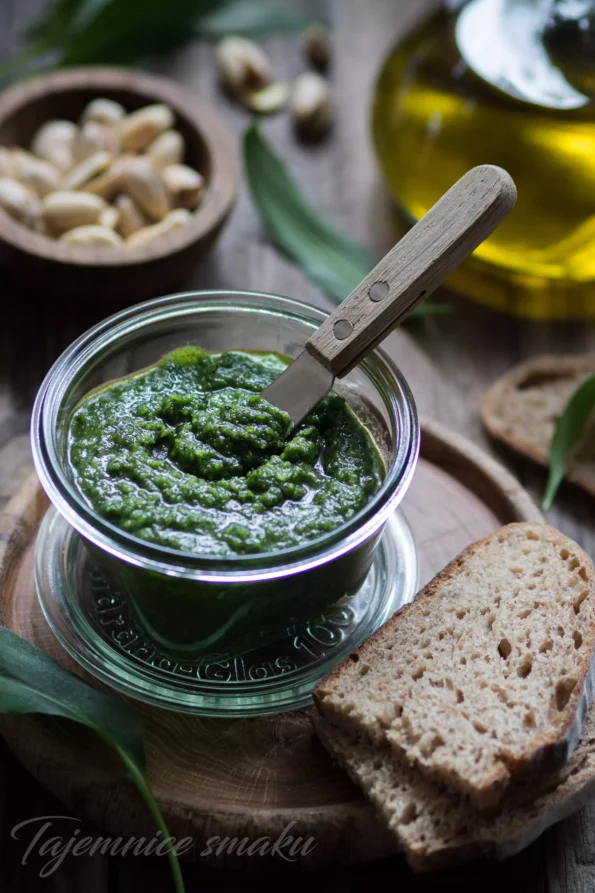 The advantage of self-preparation of pesto is that we can prepare it in just a quarter of an hour. The traditional method of preparing pesto consists in pounding all the ingredients in a mortar, but it is worth making your work easier and using a blender.
We store pesto in the fridge for about a month, preferably in small jars. The jars should be well steamed together with the lid. After filling the pesto jars, it is worth pouring extra olive oil over them. Freshly prepared pesto can also be frozen. I recommend small silicone molds. We can store pesto in the freezer for up to a year.
What to serve kale pesto with? With the same as traditional pesto, i.e. with pasta, bread, eggs, baked or boiled vegetables.
INGREDIENTS
100 g wild garlic leaves
80 g peeled almonds
20 g peeled pistachios
100 - 120 ml of olive oil
50 g grated Parmesan or other hard cheese
2 tablespoons of lemon juice
pinch of chilli
salt
pepper
EXECUTION
Toast the almonds and pistachios for a few minutes in a pan until they are lightly browned.
Wash wild garlic leaves, dry and finely chop with a knife.
Put the roasted almonds and pistachios into a tall dish, a small mixer or a mortar, depending on how we will grind the pesto.
Add chopped wild garlic, olive oil, grated parmesan or other hard cheese, lemon juice, a little chili, salt and pepper.
Mix or grind the whole thing.
We try and season to taste if necessary.
If the pesto is too thick, you can add olive oil, if too thin, grated parmesan cheese.
also check
Comments