Young carrots with carrot pesto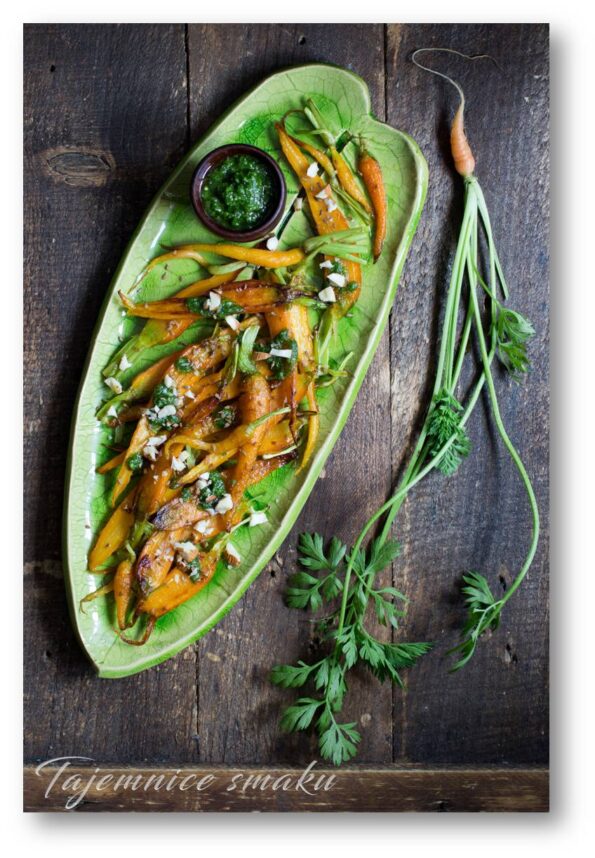 When we sow carrots from a package (and not from a tape) they often come up too densely. Then, the beds should be thinned out and the so-called interruption. We gently pull out some of the smallest and weakest carrots, thanks to which the remaining plants will have more space for growth, and we will have better crops in the future.
What to do with those little carrots we plucked? Clean well, you don't even have to scrape, don't throw away the parsley and prepare a delicious dish. There is some fun in this dish, because cleaning small carrots is quite a challenge. But you won't regret it, the prize is delicious. Young sweet carrots and young parsley pesto, only in season can we enjoy such a delicious dish.
Out of season, this recipe can be used to prepare older carrots and serve her with any other pesto.
Ingredients
CAROTS
800 g of carrots, preferably young
30 g clarified butter
1 teaspoon of anise seeds *
1 tablespoon of coarsely chopped almonds
salt
pepper
PESTO WITH CARROT PESTO
100 g of carrot leaves (without thick stalks)
100 g almonds
150 ml of olive oil
30 g Parmesan cheese
1 garlic clove
2 tablespoons of lemon juice
a pinch or more chili
salt
pepper
Execution
PESTO WITH CARROT PESTO
Toast the almonds in a pan for a few minutes until they are slightly browned. Wash the carrot parsley, dry it and chop it with a knife.
Put the roasted almonds into a tall dish, add garlic, carrot tops, olive oil, chili, Parmesan cheese, lemon juice, a bit of salt and pepper. Using a blender, "giraffes" mix everything. We try, season to taste, if the pesto is too thick, add olive oil, if too thin, add parmesan cheese.
FRIED CARROTS
Wash the carrots, clean the young ones gently with a knife or brush. If we prepare the dish with older carrots, we can peel it. Cut the cleaned carrots in half lengthwise, leaving the small ones whole. Older carrots can be cut into slices or sticks. Heat the butter in a frying pan and fry the carrots on both sides for about 10 - 15 minutes. At the end of frying, add anise seeds, chopped almonds and season lightly with salt and pepper. Arrange the fried carrots on a platter and serve with the carrot pesto. They taste great both hot and cold.
Enjoy!
*What are anise seeds? There are two spices under the word anise, one is star anise and the other is seed anise. Biedrzeniec anise is a "relative" of carrots and parsley. Anise seed is a spice with a smell similar to fennel, looks like cumin, and is somewhat similar in taste, but more spicy-sweet.
also check
Comments