Baked sandwiches made of stale yeast dough for breakfast or dessert. Challah bostocks with almond cream - frangipane
What is Frangipane? It's a very easy to prepare filling with almonds, butter, eggs, sugar and flour. It is a paste with a creamy consistency and a sweet nutty taste. Frangipane cream is a sweet almond filling for tarts and an addition to bostocks.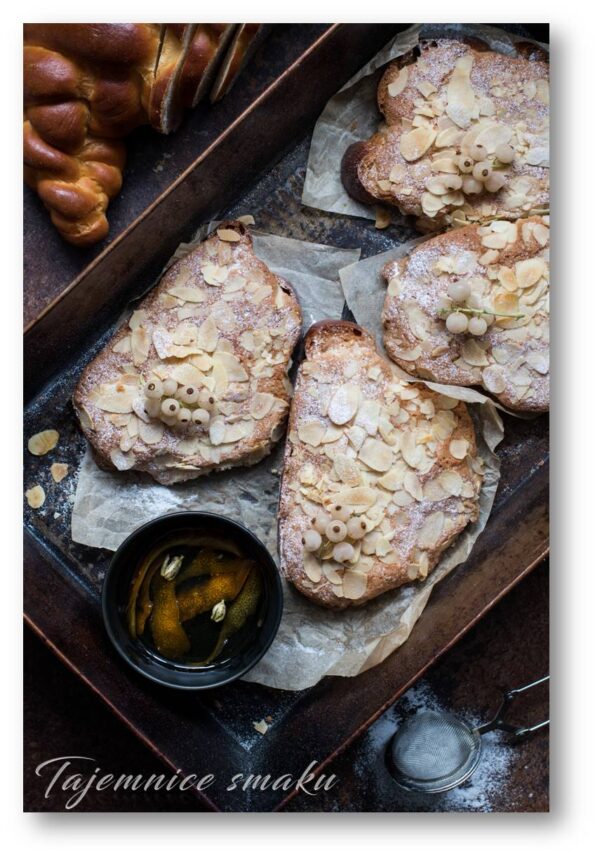 What are bostocks? Bostock is a classic French breakfast pastry. Slices of stale (or not) brooch or challah bread soaked in orange syrup and baked under a layer of almond cream. I recommend the recipe for golden challah and I recommend baking it from two servings at once. We enjoy one challah while it is fresh. Then we prepare the cream and syrup and for the next 2 - 3 days we have a delicious and sweet breakfast or dessert.
These delicious and sweet toasted sandwiches are a great way to use up stale bread.
INGREDIENTS
SYRUP
100 ml of water
100 g of sugar
1 - 2 cardamom capsules
2 tablespoons flower water oranges
orange peel - 3 - 5 wide stripes without white albedo
1 tablespoon of orange liqueur (optional)
ALMOND CREAM - FRANGIPANE
100 g of soft butter
100 g ground almonds
1 tablespoon of wheat flour
pinch of salt
70 g of sugar
1 egg
1 tbsp rum or amaretto (optional)
almond flakes
fruits
AND
EXECUTION
SYRUP
In a saucepan, boil water with sugar, orange peels and cardamom.
Mix and cook over medium heat for about 5 minutes.
Then remove the pan from the heat, add the orange blossom water and liqueur, set aside.
ALMOND CREAM
Kurd the butter until fluffy.
Add ground almonds, sugar, egg, flour, rum, salt and mix until creamy consistency.
BOSTOCKI
Cut the challah into slices and place it on a baking tray lined with baking paper.
Smear each slice generously with syrup, then apply a layer of cream (about 0.3 - 0.5 cm).
Sprinkle the top with almond flakes.
Put in the oven preheated to 180°C and bake for about 25 minutes until golden brown.
Bostocks taste best still warm.
Before serving, sprinkle with powdered sugar and top with fresh fruit.
The remaining syrup and cream can be stored in the fridge for up to 3 days, the cream can be frozen.
also check
Comments