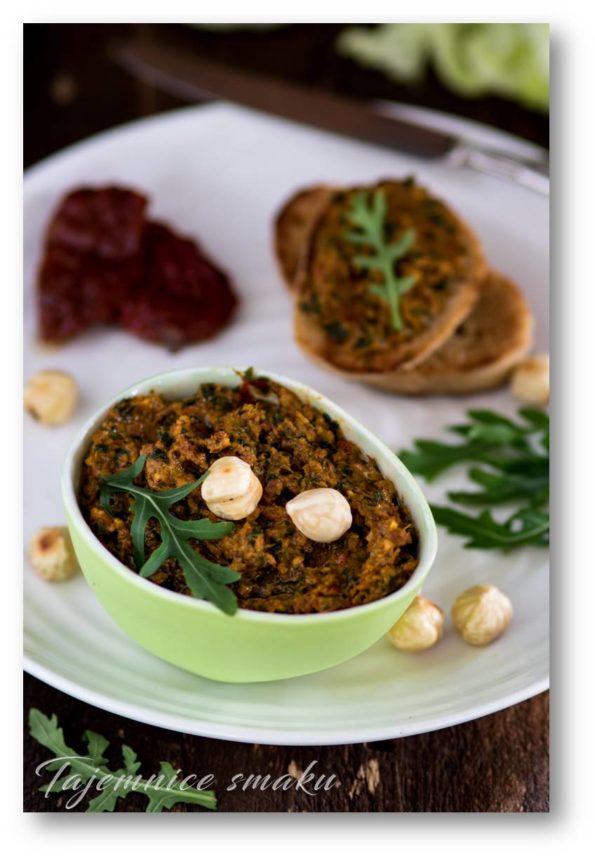 What is pesto? It's a traditional Italian green sauce that consists of made of pine nuts, fresh basil, Parmesan cheese, garlic and olive oil. Recently, however, the term "pesto" refers to many other pastes prepared by the same method but with different but similar ingredients.
Can I use the name "pesto" for homemade paste made of roasted hazelnuts, dried tomatoes, arugula, olive oil and spices? I don't know, but I do know that it's delicious and, like traditional pesto, it's very versatile. It is worth experimenting because in the home kitchen we do not have to stick to rigid rules and traditional recipes can evolve.
Ingredients
50 g shelled hazelnuts
1 garlic clove
50 g arugula
100 g sun-dried tomatoes in olive oil
1 teaspoon of lemon juice
2 tablespoons of olive oil
salt
pepper
a pinch of hot pepper powder
Execution
Toast the hazelnuts in a pan for a few minutes until they are slightly browned. Place on a paper towel, cover with a second towel and rub to get rid of most of the brown shell. Wash the arugula leaves and dry them thoroughly. Peel the garlic, drain the tomatoes from the brine.
Put the roasted and cooled hazelnuts into a tall dish, add garlic, arugula, sun-dried tomatoes, olive oil, lemon juice, a little salt, pepper and hot pepper. Using a blender, "giraffes" mix everything. We try, season to taste.
What to serve such pesto with? With this same as traditional, but I like it best with a baguette toast, or more after Italian... with bruschetta.
Enjoy!
also check
Comments