Wreath with poppy seeds in Pain D'epi baguette style
Pain d'epi is a French baguette shaped like an ear of wheat. This time, instead of baguettes, we will form two large baguettes and cut them with scissors just before baking. We put the cut corners once to the left, once to the right and thanks to this we will get wreaths perfect for the Easter table.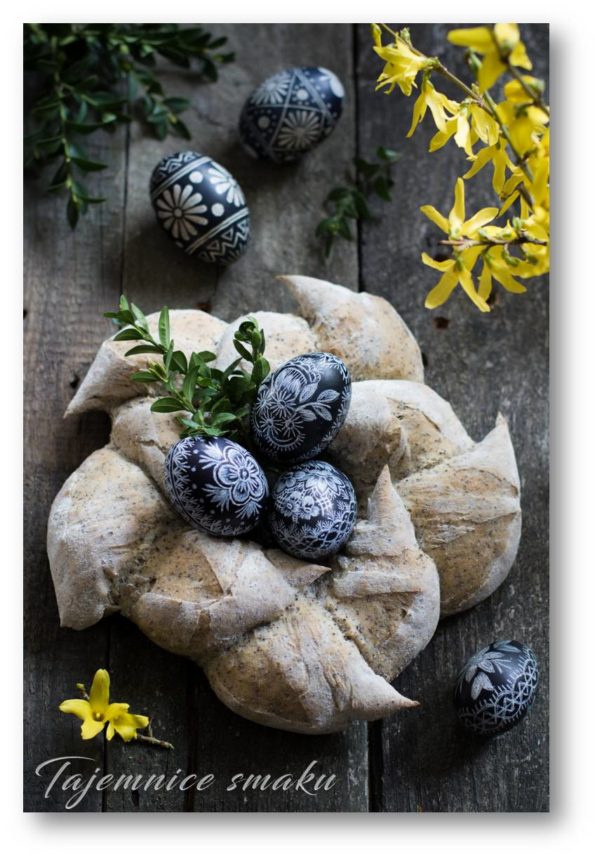 We can put a bowl with eggs, horseradish, beetroot or colorful Easter eggs into the baked wreaths. A yeast wreath on the Easter table is not only a decoration, it is also delicious bread to tear off, piece by piece...
Ingredients
START
150g of water
150 g of bread flour type 750
5 g of fresh yeast
CAKE
Leaven
350 g of bread flour type 750
30 g of poppy seeds
170g of water
10 g of fresh yeast
8 - 10 g of salt
Execution
GROUT
The day before baking, we mix the ingredients for the leaven, cover and leave to ferment at room temperature for 18 - 24 hours hours.
CAKE
The next day, mix 350 g of flour and 170 g of water, cover and leave for 1 hour.
After an hour, add the leaven, yeast dissolved in a spoon water, poppy seeds, salt and knead the dough. The dough is best kneaded in a mixer with hook. Knead for 5-10 minutes until the dough becomes elastic and sticky away from the walls of the bowl. Cover and leave to rise for 2 hours.
During rising, fold the dough every 30 minutes. Folding - with a hand moistened with water, grab the dough on one side, stretch it slightly and push it inside the cake. We repeat the action 3 - 4 times on all sides, until the dough resists. Cover and repeat folding every 30 minutes.
After 2 hours, when the dough has risen, divide it in half. Form two balls and flatten slightly. Form two large bagels from the dough. Press your thumb in the center of each portion and gently stretch with your fingers to enlarge the opening.
After forming the bagel, cover it with a cloth and let stand for 45 minutes.
Preheat the oven to 230°C.
Just before baking, cut the baguettes using the same method as baguettes "kłos wheat " according to the formula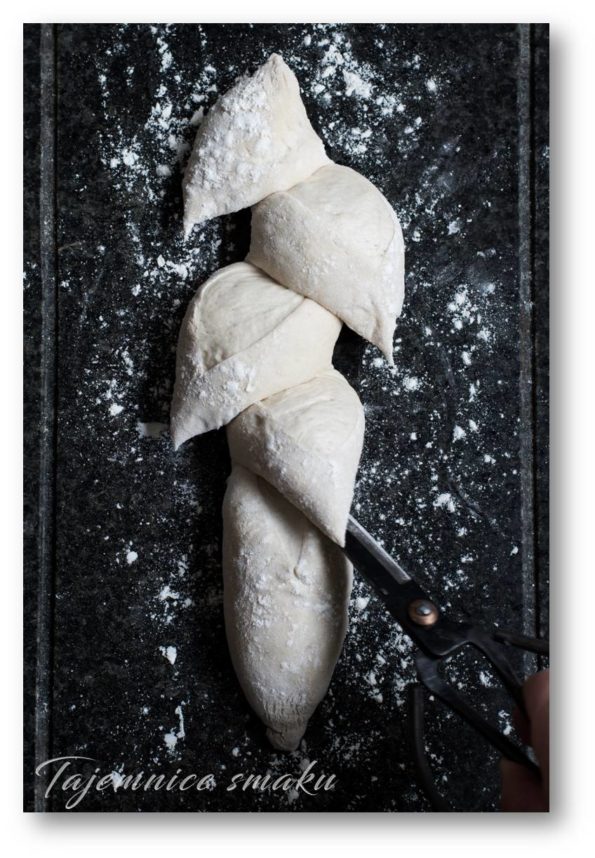 We cut with scissors around at an angle of 45 degrees at a distance of 2 - 3 cm, move the cut corners slightly to the side, alternately, once to the left, once to the right.
Bake for the first 8 minutes with steam (with a bowl of hot water), another 8 - 12 minutes without steam.
We're cooling on a grate.
Enjoy!
also check
Comments