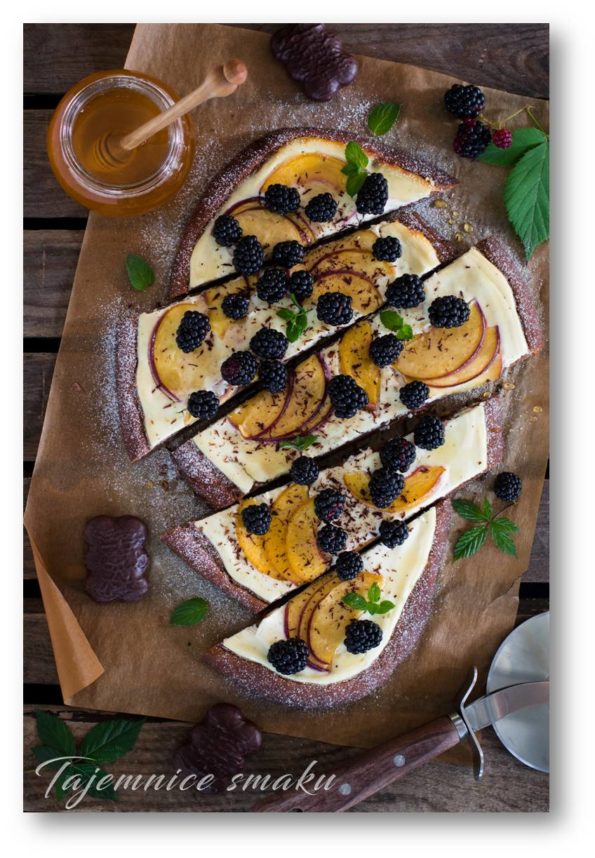 Pizza for dessert? Why not!
Pizza is a dish that comes in many flavor variants. Mostly, these are salty and savory recipes, but sometimes it's worth going off the beaten track and trying something different, maybe even a little perverse. Reason was telling me "don't go this way", but as usual, curiosity won out.
Effect?
A tasty dessert on a crispy gingerbread dough with ricotta cheese cream, all topped with fruit and drizzled with honey.
Ingredients
120 g of Toruń gingerbread "Katarzynki in chocolate"
130g pizza flour
100ml warm water
15 g fresh yeast
10 ml of oil
250 ​​g ricotta cheese
1 egg
1/2 lime - zest and juice
20g of sugar
1 - 2 nectarines or peaches
a handful of blackberries
1 - 2 pieces of dark chocolate
honey
mint
Execution
Mix the gingerbread cookies to the consistency of sand. To make sure that the gingerbread cookies mix well, you can cool them in the fridge. Add flour to the ground gingerbread and mix briefly again, we will get the so-called. "gingerbread flour".
In a bowl, prepare the starter from warm water, yeast, oil and 2 tablespoons of "gingerbread flour", mix, cover with a cloth and leave in a warm place for about 15 minutes. After this time, add the remaining "gingerbread flour" to the leaven and knead a smooth and elastic dough. Form the dough into a ball, place in a bowl, cover with a cloth and leave in a warm place for about 1 hour, until it doubles in volume.
Mix the ricotta cheese, egg, sugar and lime juice (briefly) to a homogeneous mass. At the end, add grated lime zest, mix by hand.
Use the risen dough to form a pizza base and put it on a baking tray lined with baking paper. Put the ricotta mousse on the bottom of the cake, put thin slices of nectarines. Leave for about 15 minutes until the bottom rises slightly.
Bake the pizza for about 15 - 20 minutes in an oven heated to 220°C.
Cut the baked pizza into pieces, cover with blackberries, mint, grate the dark chocolate on top, pour honey on it.
Enjoy!
also check
Comments