Crispy pillows - brushwood - wafers
On Fat Thursday we prepare donuts, cheese donuts, faworki, brushwood, donuts, wreaths, and even Spanish churros. All these delicacies are powdered, glazed, covered with chocolate.... it should be sweet, fatty and delicious.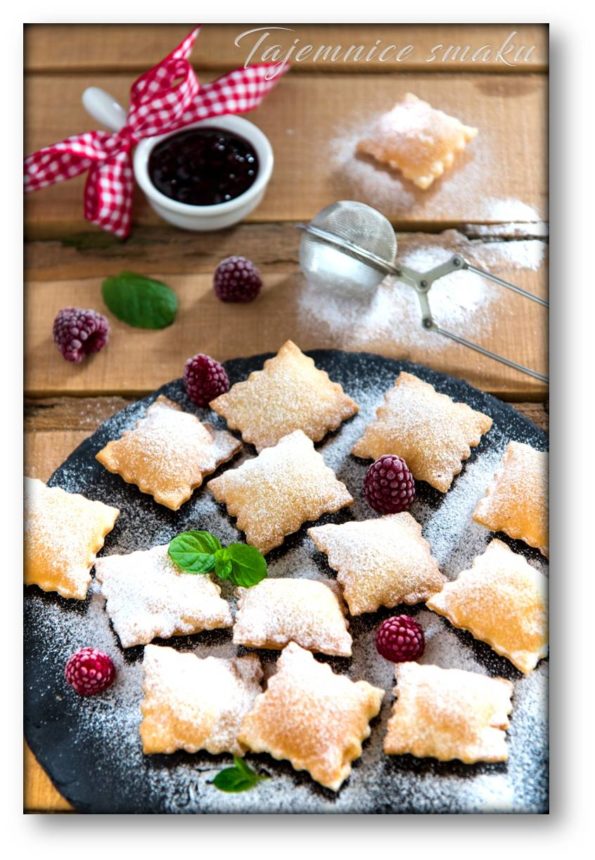 This recipe is a slight modification of Mary Ochorowicz-Monatowa's recipe for brushwood from "Universal Cookbook" from 1926. In the book's recipe, faworki are woven from the dough and then fried in lard. Here, instead of faworki, there will be pillows and lard will be replaced with oil.
In addition to brushwood, prepare "donuts over donuts", i.e. the most delicious Sourdough donuts
Ingredients
100g butter
3 yolks
500 - 600g flour
lemon zest
20ml rum
140ml sour cream
Rapeseed oil for frying, powdered sugar for decoration, raspberry jam to serve
Execution
Knead a smooth, elastic dough from the given ingredients, wrap it in foil and put it in the fridge for about 30 minutes. Then roll out the dough well, fold it like a handkerchief, in four and roll it out again. We repeat this procedure, preferably several times. Thanks to this, we force a lot of air into the dough and after frying, we will get beautiful bulging pillows.
In a large pot or fryer, heat the oil to 180°C.
The dough is finally rolled out to about 1-2mm, cut out small squares with a knurl or a corrugated ravioli mould, put into hot oil and fry until golden on both sides. Place on a plate lined with a paper towel. After cooling, sprinkle generously with powdered sugar. Serve with raspberry jam.
Save< /span>
Save< /span>
Save< /span>
also check
Comments