Cottage cheese cookies in the funny shape of goose feet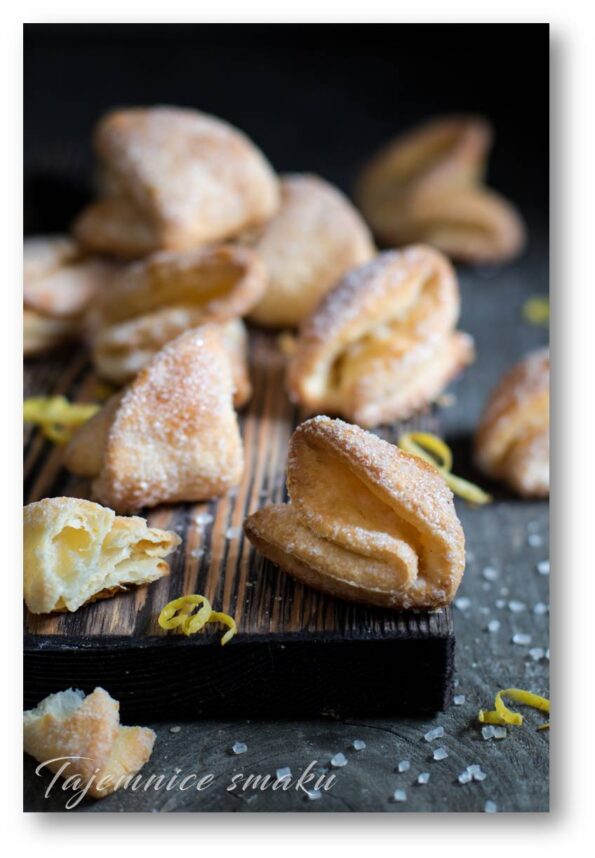 Goose feet are crisp and delicious cheese cookies. Why such a funny name for these cookies? Because in shape they resemble just such membranous goose feet. The addition of butter and cheese makes the texture of the baked dough very reminiscent of puff pastry. We can also use the basic dough for other baked goods, such as strudel or tart. Thanks to the fact that it contains no sugar it will work well in both sweet and salty dishes.
Ingredients
100 g cold butter
200 g semi-skimmed cottage cheese
250 g cake flour
2 egg yolks
1 teaspoon baking powder
a pinch of salt
grated lemon peel
100 g of sugar, preferably coarse sugar, but regular can also be
Making
Sift flour into a bowl, add baking powder, salt and grated lemon peel. Mix everything thoroughly. Grate the cold butter on a coarse mesh grater directly into the flour. Try to do it as quickly as possible, so that the butter does not melt. The butter should be firm, we can even frost it slightly before grating. Next, grate the curd into the flour. Add the egg yolks and, using your hands, quickly mix the dough until all the ingredients begin to come together. Dump the dough on the countertop and knead briefly. We form a ball from the dough, wrap it in cling film and put it in the refrigerator for at least an hour (we can store the dough in the refrigerator for up to 2 - 3 days).
We turn on the oven and set it to 180°C. Line a baking sheet with baking paper.
Lay the baking sheet with baking paper.
We roll out the cooled dough thinly on a floured pastry board. Using a glass or a mold, cut circles out of the dough. Roll the remaining dough into a ball, wrap in plastic wrap, and place back in the refrigerator.
Place the dough in the refrigerator.
Pour the sugar into a bowl. Place the disc of dough with one side on the sugar, press lightly to make the sugar stick. Fold in half, with the side with the sugar to the center (you will get "half moons"). Again dip only one side in the sugar and again fold in half with the sugar to the center We will get "triangles", which we also dip in the sugar on one side and finally place on the baking tray with the sugar side up. Repeat all the steps with the rest of the dough.
Bake the cakes for about 30 minutes, until they slightly "open" and brown.
Tasty!
also check
Comments