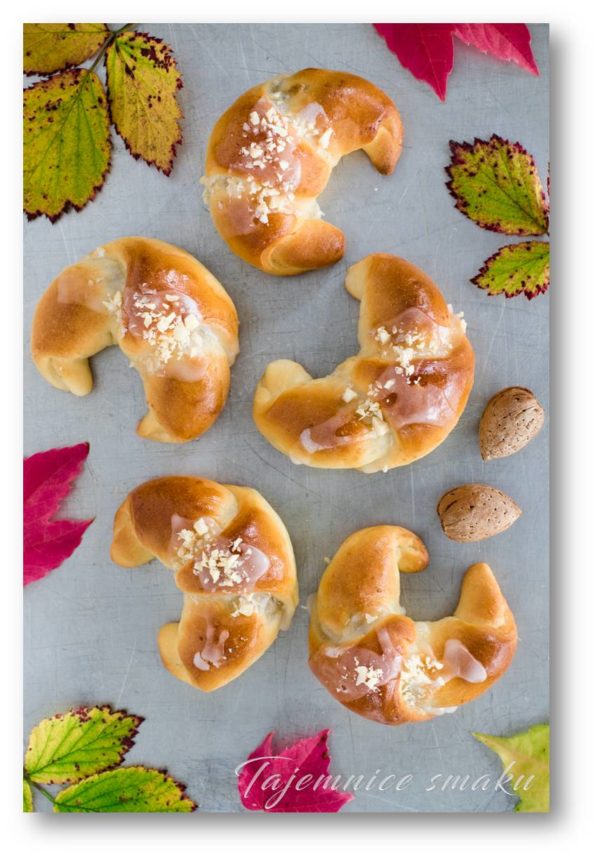 "Saint Martin's Day begins with a croissant"
Every year, on November 11, on St. Martin's Day, huge amounts of St. Martin croissants are baked in Poznań and its vicinity. However, anyone who wants to bake croissants under this name must obtain a certificate and the right to bake according to the traditional recipe. And such a traditional croissant should be prepared from French pastry. It should weigh 150 - 250 g, and the basis for baking is the filling - based on white poppy seeds!
My croissants are not prepared according to the traditional Wielkopolska recipe, but they are equally delicious. I prepared croissants from yeast dough stuffed with white poppy seeds and raisins. From these proportions came 32 pieces of small croissants, which I did not weigh... I just did not have time...
Ingredients *
FILLING
400 g white poppy seeds
100 g blanched almonds
50 g peeled walnuts
30g raisins
20g candied orange peel
2 tablespoons of honey
2 tablespoons of cream
CAKE
25g yeast
80g sugar
1 egg
300ml milk
600 g wheat flour
120g butter
a few drops of almond and orange essence
a pinch of salt
ADDITIONS
egg to spread on croissants
icing sugar icing (about 1/2 cup icing sugar plus 1 - 2 tbsp hot water)
chopped almonds
Execution
FILLING
Rinse the poppy seeds, pour boiling water over them and cook over low heat for 30 minutes. After cooking, drain on a very fine-mesh sieve. Add blanched and peeled almonds and walnuts to the poppy seeds, then grind twice in a meat grinder. We use a fine-mesh sieve for grinding.
Add scalded, chopped raisins and orange peel, honey and cream to the ground poppy seed mass. Stir thoroughly.
CAKE
Dissolve the yeast with warm milk, add sugar, egg, milk, flour, melted butter, a pinch of salt. Knead and leave in a warm place for about 30 minutes.
Roll out the risen dough to a thickness of 5 mm, cut into triangles, put the filling on them, roll the croissants starting from the wider side.
Put them on a baking sheet lined with baking paper, cover with a cloth and let them rise until they double in volume. Before baking, brush with beaten egg.
Bake until golden brown for about 20-30 minutes in an oven preheated to 180°C.
We decorate with icing prepared from icing sugar and hot water, and decorate with chopped almonds.
Enjoy!
Recipe taken from Kitchen Magazine No. 10/2017
also check
Comments