Rice pudding in coconut milk with apple and cranberry fruit sauce
Boiled rice pudding always reminds me of my childhood. It was served with cream mixed hastily with sugar and cinnamon. I still remember the wonderful crunch of sugar under my teeth. The biggest regret was when the cream ran out and only rice was left...  I didn't like rice for a long time, unless it was covered with a lot of cream and sprinkled with sugar ;-)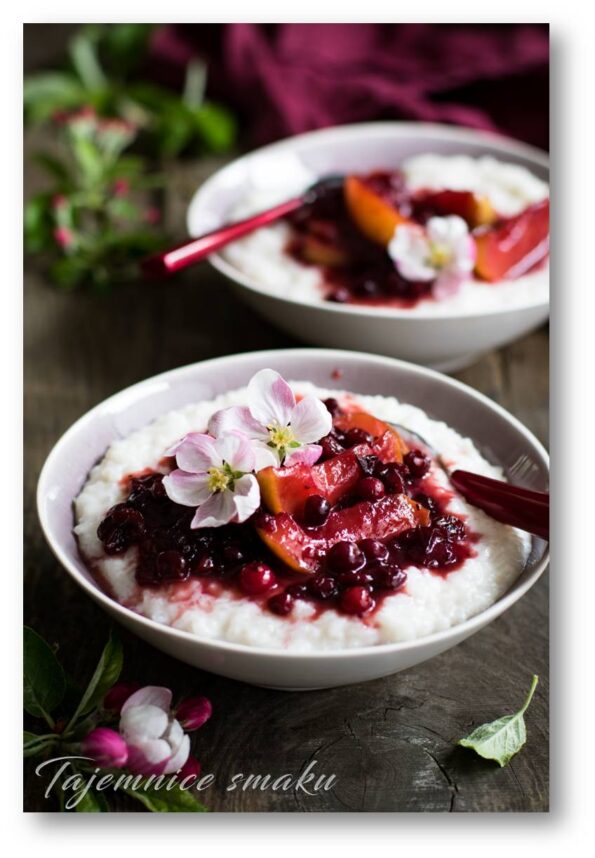 Today I propose a healthier version of rice, vegan with fruit. I added cranberries to the fruit sauce for apples, which can be successfully replaced with blueberries, blueberries, blackberries or cherries. In season, let it be fresh fruit, out of season it can be frozen or in syrup (in the latter case, carefully with additional sugar).
Ingredients
RICE
100 g of jasmine (or other) rice
250 ​​ml of coconut milk
250 ​​ml of water
pinch of salt
1 tablespoon of sugar or other healthier sweetener
FRUIT
2 apples
200 g of cranberries, blackberries, blueberries or cherries - can be frozen or made from syrup
3 tablespoons of sugar
100 ml of water
Execution
RICE
Pour the rice into a strainer and rinse it under running cold water. Boil 250 ml of water in a pot, add rinsed rice, a pinch of salt and cook over medium heat for about 2 minutes. Add coconut milk and cook over low heat for about 20-30 minutes. We keep the rice under control all the time, stir, making sure that it does not stick to the bottom of the pot. Boil water in a kettle and, if necessary, add boiling water in small portions to the rice. When the rice is soft and the whole dish has a pudding consistency, sweeten to taste. Stir until the sugar dissolves and set the pot of rice aside to cool.
FRUIT IN SYRUP
In a saucepan, heat the sugar over medium heat, do not stir. When the sugar starts to melt, swirl the pan gently until the sugar dissolves and the color changes from white to amber. Then add apples cut into pieces with skin and cranberries, pour water and mix. Cook the whole thing for a while, not too long, so that the fruit remains whole. If necessary, add hot water.
The ready pudding can be poured with such a fresh, hot fruit sauce or wait until it cools down.
Rice pudding with fruit is a delicious and versatile dish. It is suitable for breakfast, dessert, afternoon tea and dinner.
I also recommend Rice pudding with almonds and cherry sauce
also check
Comments