Herrings for dinner - herring salad with baked potatoes
Herring salad is a dish for breakfast, dinner and also for lunch. And if herring is for dinner, it must be served with hot baked potatoes.
This is a great idea for the so-called. Friday lunch, when many people treat this day as fish day. Thanks to the fact that we prepare the salad the day before, the only task will be to wash and bake the potatoes an hour before dinner.
For baking potatoes, I recommend a clay pot, the so-called roman pot. Dishes prepared in such a pot are tasty and healthy. Enamel pots are a great solution, because they do not need to be soaked in water before baking.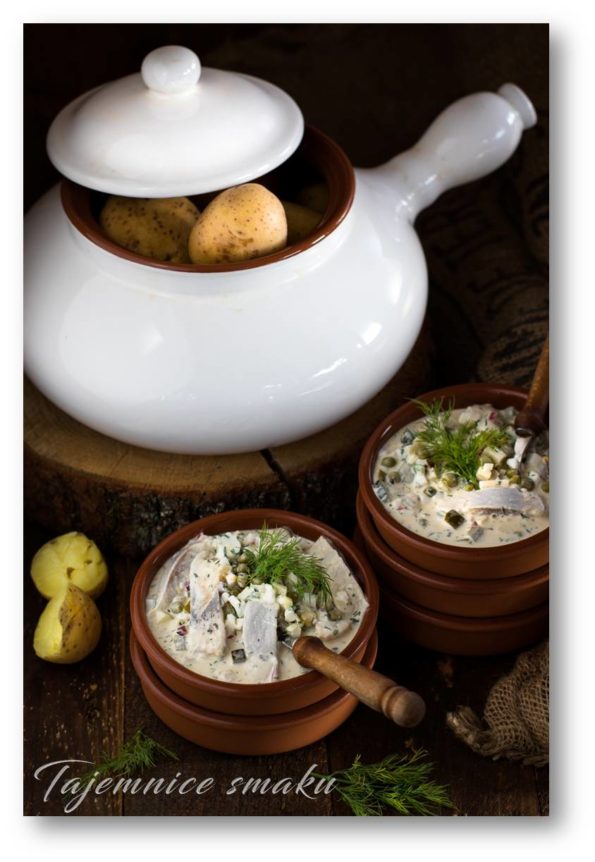 Ingredients
4 - 5 herring lobes - about 400 g
1 can of peas (140 g)
1 red onion
1 big apple
200 g pickled cucumbers
3 hard-boiled eggs
2 tablespoons chopped fresh dill
juice of 1/2 lemon
350 ​​ml of natural yoghurt
60g mayonnaise
salt, pepper
potatoes
EXECUTION
Soak herring in cold water for about an hour.
Peel the eggs from the shells.
Peel the apple and onion.
Eggs, cucumbers, apple and cucumbers are cut into cubes.
Prepare the sauce from yogurt, mayonnaise, and lemon juice by mixing the ingredients together.
Add the chopped dill to the sauce, season with salt and pepper. Be careful with salt because herring available for sale has different saltiness.
Drained herrings are cut into strips.
In a bowl, combine the chopped eggs, cucumber, onion and eggs.
Add the chopped pieces of herring, peas drained from the brine.
Pour the whole thing with the sauce, optionally season it.
Cover and leave in the fridge, the salad tastes best the next day.
Place the unpeeled, washed and scrubbed potatoes in a Roman pot and bake for about an hour at 200°C. We bake without water or with a little, it depends on the pot.
We check whether the potatoes are soft, the baking time depends, among other things, on the potato variety.
If you don't have a Roman pot, you can steam the potatoes. We can also wrap each potato in aluminum foil and bake it in the oven.
We serve herring salad with hot baked potatoes.
also check
Comments