Fried chicken breasts in curry, juicy oranges and a quick mayonnaise and ketchup sauce. Curry chicken and orange salad with pink spicy sauce
Curry chicken salad with oranges is a good idea for a party snack. The combination of orange and curry is a bit exotic, but thanks to that the salad tastes and looks great.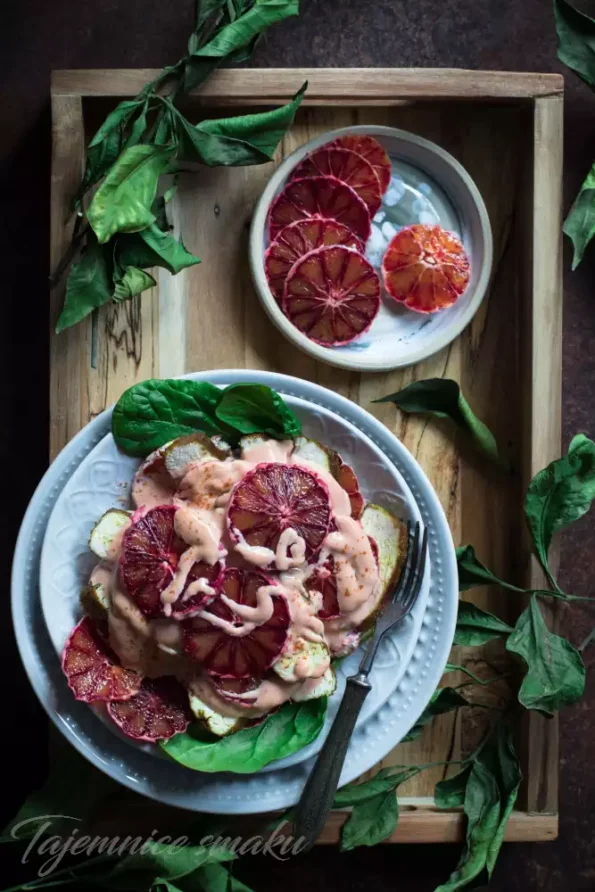 The recipe is very simple to follow, all we have to do is fry and slice the chicken, peel and slice the oranges, mix the ingredients for the sauce, mix everything and you're done! Orange salad with curry chicken and ketchup and mayonnaise sauce will be a great snack at a house party or a family meeting.
I like to prepare this salad the most when the oranges are the tastiest and juiciest. I do not recommend it out of season for oranges, when the fruits available for sale are dry and tasteless.
INGREDIENTS
2 chicken breasts
3 juicy oranges
2 - 3 teaspoons of spice curry< /a>
frying oil - 1 - 2 tablespoons
2 - 3 tablespoons of good mayonnaise
2 - 3 tablespoons of good ketchup
chilli powder to taste
salt
EXECUTION
Dry the chicken breasts thoroughly with a paper towel.
Whole pieces of chicken (do not cut or break the breasts) generously with curry powder.
Heat the oil in a frying pan and fry the chicken on both sides. Not too long so it's not too dry. We can cut in the thickest place and check if it is ready. If the meat is still pink inside, i.e. raw meat, fry it for a while.
Put the fried chicken breasts on a plate, lightly salt and leave to cool.
We prepare the sauce from ketchup and mayonnaise. Mix both ingredients and season with chilli. The taste of the sauce depends on what products we use.
The cooled chicken breasts are cut into thin slices.
Peel the oranges and also cut them into slices.
Alternately place the chicken and orange slices on the platter.
The whole thing is poured with a pink spicy sauce made of ketchup and mayonnaise.
also check
Comments