Fennel carpaccio with shrimps, lamb's lettuce and orange
This is a very simple yet exquisite dish. The salad is light, refreshing, delicious. It can be an appetizer as well as a main course. Fennel carpaccio with shrimps is a great idea for a special dinner. Valentine's Day is coming, maybe someone will be inspired?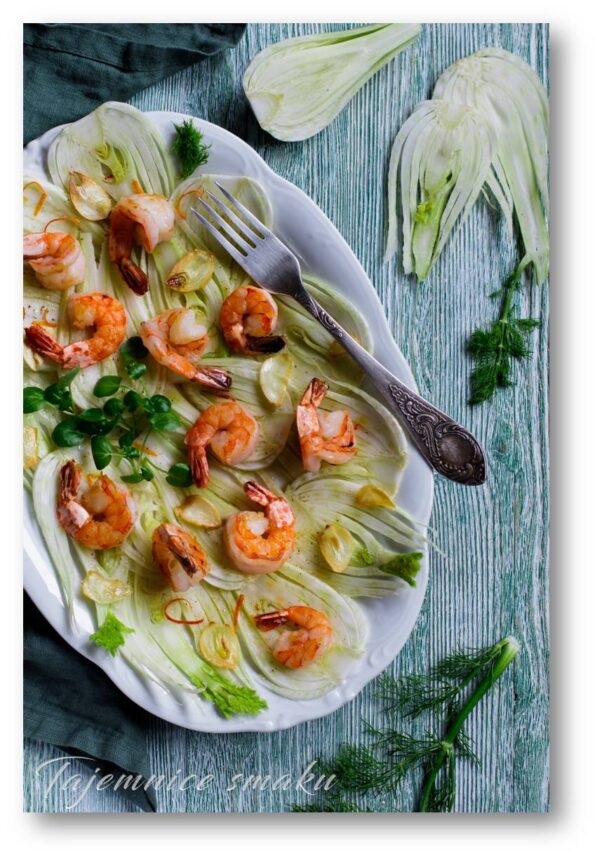 I know that many people do not like the taste of fennel. Maybe there is a way, try it. If you slice the tuber very thinly, on a mandolin, marinate it in a vinegar-orange sauce, you will find that fennel can be delicious.
Ingredients
300 g of fennel (fennel) - 1 piece
3 tablespoons of white wine vinegar
3 tablespoons of orange juice
1/2 teaspoon grated orange peel
1/2 teaspoon of honey
2 cloves of garlic
Oil - 3 tablespoons for the sauce, 1 - 2 tablespoons for the shrimps
400 g of shrimps (without heads, peeled)
1 - 2 handfuls of lamb's lettuce
salt
pepper
Execution
Slice the cleaned fennel into very thin slices, preferably with a mandoline.
We are preparing the sauce. Mix the vinegar, orange juice and grated zest, 3 tablespoons of olive oil, salt and pepper. Rub half of the sauce into the fennel slices, set aside half.
Rinse the prawns, dry them, peel off the shells (the tail can be left, it looks nice on the plate),  remove the intestine (black string).
Slice the peeled garlic into very thin slices.
Heat a tablespoon of olive oil in a frying pan and fry the garlic slices briefly until browned. Remove the garlic from the pan. If necessary, add another tablespoon of oil and fry the shrimp, on both sides, for about 3 - 5 minutes. Season with salt and pepper, mix and remove from the heat.
Spread fennel slices, fresh lamb's lettuce leaves and shrimps with garlic on a large platter. Pour the rest of the sauce from the pan and half of the orange sauce prepared earlier.
Enjoy!
also check
Comments