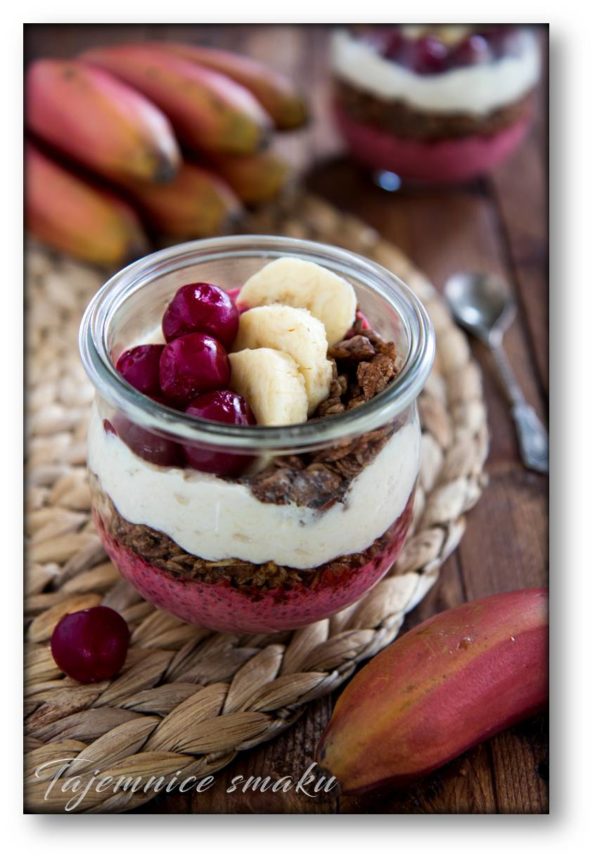 This time cherries and bananas in the starring role. This is another idea for a layered dessert or breakfast.
Although, the season for cherries is still some time away, but what do we have a freezer and stocks from the previous year for? However, we need space for a fresh harvest, so we make the family happy with cherry desserts: cakes, kisielles, smoothies.... well, and our favorite jars.
Sour cherries broken by the sweetness of bananas, this is worth trying!
Ingredients (for 2 jars of 350 ml) and making
CHERRY LAYER
150 g of seedless cherries
50 natural yogurt
20 g of chia seeds
8 tbsp of granola
Mix the cherries with the yogurt, add the chia seeds, mix and pour into the bottom of the jars. Set aside in the refrigerator for 15 minutes to let the chia swell so that the cherry mousse thickens.
Then sprinkle a layer of granola over the cherry mousse.
BANANA LAYER
2 peeled small red bananas or 1 large (can be yellow)
2 tablespoons of natural yogurt
6 slices of banana set aside for decoration, mix the rest with yogurt and put another layer on the granola.
DECORATION
100 g of seedless cherries
4 tbsp granola
6 slices of banana
Decorate, scrimp or take to work.... alternatively, the second jar can be shared with a friend ;-).
also check
Comments