Quick and easy avocado and egg salad for breakfast and more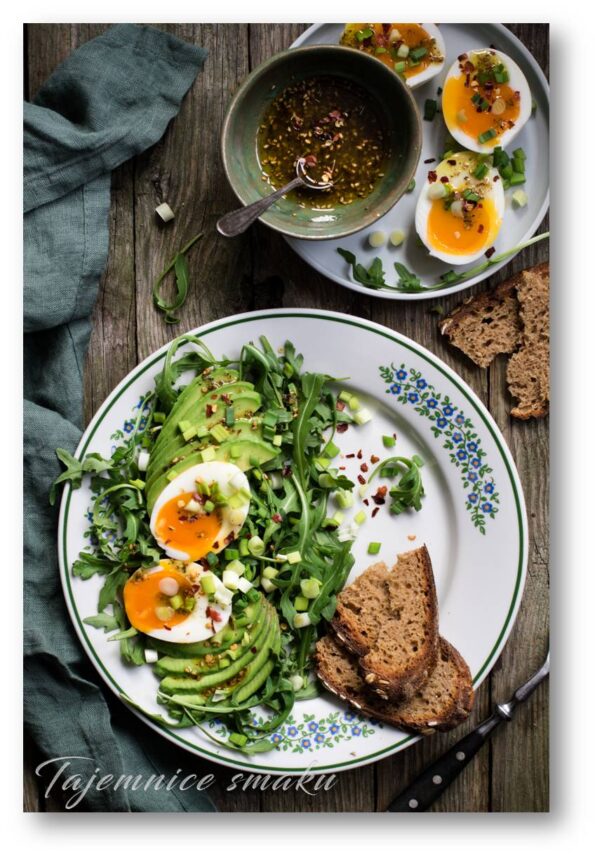 Avocado salad with arugula and eggs is an idea for a very easy and quick breakfast. Arugula can be replaced with lamb's lettuce, fresh spinach or a mix of salads. For the salad, I suggest half-boiled eggs (so-called six-minute eggs) and a sauce made of olive oil, lemon and za'atar. If you like and know how to cook poached eggs, they will also be perfect in this salad.
What is za'atar (za'atar, zathar)?
It is an Arabian spice mix containing ground sumac, roasted sesame seeds and "green herbs" (thyme, marjoram, oregano). Ready-made za'atar spice and chili flakes can be bought in larger stores or online, e.g.
Ingredients
Eggs with mash
6 eggs
1.5 tablespoons of lemon juice
3 tablespoons of olive oil
1 tablespoon of za'atar
2 spring onions with chives, thinly sliced ​​(20 g)
1/8 teaspoon Aleppo chilli flakes (or other chilli)
salt and black pepper
SALAD - ingredients for 1 portion
a handful of arugula
1/2 avocado
1 teaspoon of lemon juice
bubble
1 boiled egg
sauce with zatar
Execution
Eggs with mash
In a pot, bring the water to a boil and carefully submerge the eggs. Cook for 5 - 6 minutes and cool immediately in cold water.
Prepare the sauce -  mix olive oil with za'atar and lemon juice, season with salt, chili and pepper.
SALA
Peel and slice the avocado, sprinkle with lemon juice. Arrange the arugula on a plate and place the avocado slices on top. Add the egg cut in half. Sprinkle the whole thing with the sauce with zatar, sprinkle with chopped spring onions. Serve with a slice of good bread or a piece of warm pita bread.
also check
Comments