Culinary tour of China - Sichuan mapo tofu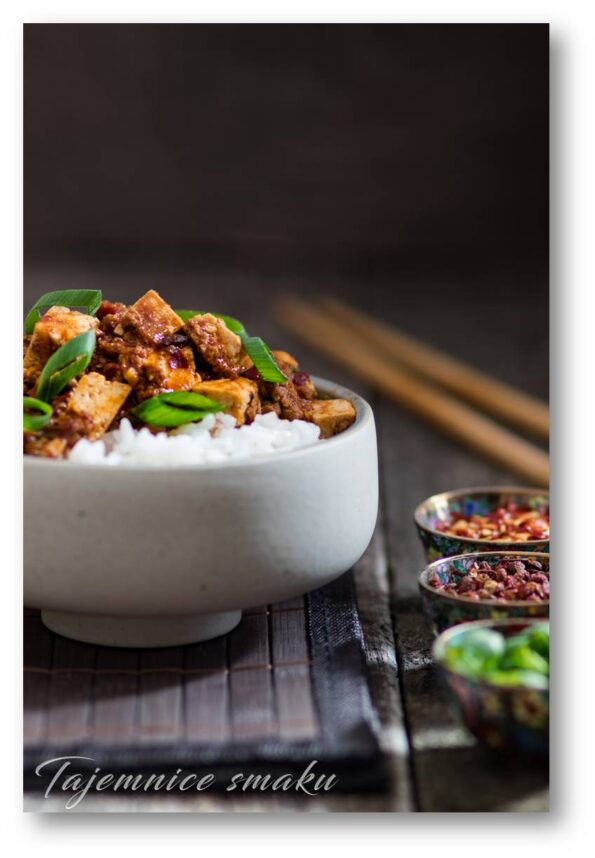 Mapo Tofu (Mapo Doufu) is a popular dish from Sichuan province. It is very popular not only among the Chinese, but also in many Western countries. Mapo tofu is a very spicy and warming dish, perfect especially in autumn and winter.
Popular and great foods often have an interesting history. So is mapo tofu. It all started with Mrs. Chen, the owner of the restaurant where she served this dish. So where does the name mapo tofu come from? Mrs. Chen's face was covered with smallpox scars, so she was nicknamed mapo, which means "pox-poxed old woman" (Ma means smallpox scars and Po means old lady). Although the name evokes mixed feelings, the dish defends itself with its taste. It's delicious, addictive, and when you taste it, the thought of a pockmarked old woman will only bring a smile to your face.
To prepare mapo tofu, apart from minced meat and tofu cheese, we need three key ingredients: doubanjiang sauce, douchi and Sichuan pepper.
Toban Djan - Doubanjiang, chilli sauce with fermented soybean and broad bean paste. It is a staple ingredient in Sichuan cuisine. The sauce is the equivalent of miso paste, but more seasoned.
Douchi, or Chinese fermented black beans. I suggest fermented black bean paste with chilli. Tasty and spicy, used for stir-frying, Sichuan food and more.
Sichuan pepper, another important spice that uniquely emphasizes the taste of the dish. Sichuan pepper is characterized by an interesting lemon aroma and a tingling effect on the tongue. It is used to flavor oil, sauces and spice mixes. A pinch of freshly grated Sichuan pepper will take our dish to another level. First, we will feel a slight tingling sensation at the tip of the tongue. After a few moments, the tingling changes to a slight numbness. It's a strange experience, but trust me, it's addictive.
You can find all these ingredients at Asian stands or online stores, e.g. w Cuisines of the World.
Ingredients
TOFU
500 g medium-firm or soft tofu
1/2 teaspoon of salt
SOS
400 g of minced beef
2 tablespoons of rice oil
4 cloves of garlic
1 teaspoon of grated ginger
3 tablespoons of Toban Djan (Doubanjiang) - chilli sauce with fermented soybean and broad bean paste
1 tablespoon fermented black bean paste with chilli
2 tablespoons of Shao Xing Chinese cooking rice wine
500ml chicken stock or water
1 tablespoon of corn starch (or potato starch), mixed with 3 tablespoons of water
dried chili flakes - 1/2 teaspoon or to taste
2 teaspoons of sugar
2 tablespoons of soy sauce
bunch of speech bubbles
1 - 2 teaspoons of Sichuan pepper
rice
Execution
TOFU
Cut the tofu into about 2 cm cubes. In a large pot, boil water, add salt and gently slide the tofu cubes into the boiling water. Cook for 1 minute, drain and set aside.
SOS
Heat the oil in a wok or deep frying pan. Add chopped garlic, grated ginger and about 2 tablespoons of chopped white part of spring onions. Fry for a short while, when the ingredients are slightly browned, add the meat. Continue frying, stirring and until the meat is bright.
Add rice wine, soy sauce, sugar, Doubanjiang sauce, fermented bean paste, chili flakes, mix. Then add hot broth or water and cook for a while. Carefully insert the drained tofu cubes, stir gently and leave over medium heat for about 10 minutes or until the liquid is reduced by about a third. At the end, pour starch with water, mix thoroughly and when the sauce thickens, remove from heat.
Sichuan pepper is roasted in a dry frying pan for a while, then crushed in a mortar.
Sichuan mapo tofuserved hot, with rice. Before serving, sprinkle the dish with chopped spring onion and Sichuan pepper, as much as you like.
Enjoy!
also check
Comments