Green asparagus with grilled or pan-fried halloumi cheese
Green asparagus and halloumi skewers are a barbecue option for vegetarians and carnivores who already have enough sausages, steaks and hamburgers.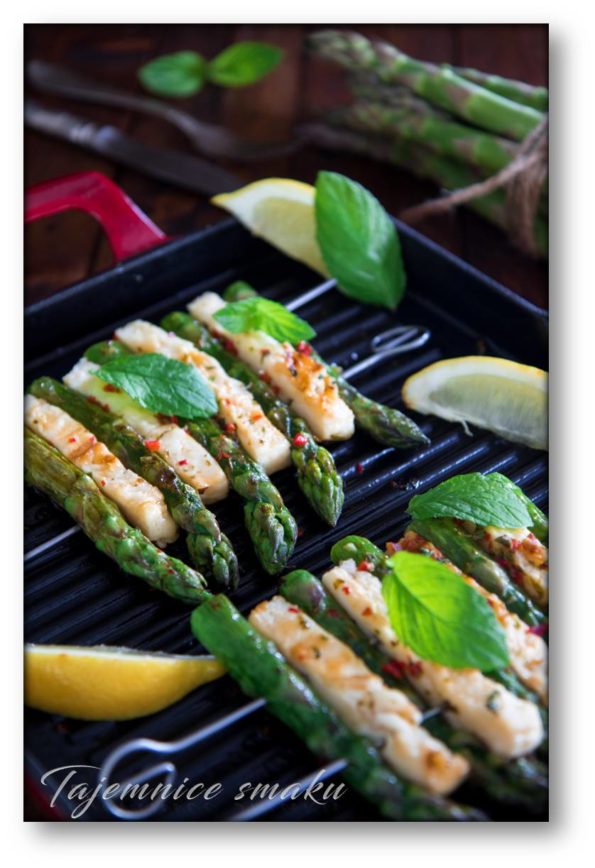 Skewers can also be prepared at home on a grill pan, in a regular pan or in the oven.
The dish is simple and quick to prepare. We serve skewers hot because halloumi cheese is rubbery when it cools down. We can blanch the asparagus briefly before grilling, but we don't have to. If we like crispy, al dente asparagus, we skip blanching.
INGREDIENTS
Skewers
1 bunch green asparagus
200g halloumi cheese
1 lemon
mint leaves
PICKLE
chilli pepper - 1-2 cm fresh or a pinch of dried
several mint leaves
1 tablespoon olive oil
1 teaspoon lemon juice
EXECUTION
Green asparagus is blanched. In a pot, boil salted water, clean the asparagus and cut off the hard ends. Prepare a bowl with cold water and ice cubes. Put the asparagus into the boiling water and cook for about 3 minutes, then remove them using a slotted spoon and quickly put them into the ice water.
Cut the halloumi cheese into pieces so that they are of similar thickness and length as the asparagus.
Thread the asparagus alternately with the halloumi cheese on skewers. If we use wooden sticks and plan to grill outdoors, it is worth dipping them in water for 15 minutes so that they do not catch fire.
Finely chop the fresh chili pepper and mint leaves, add olive oil and lemon juice. Coat the skewers with the marinade and set aside for about half an hour. Then we grill. The grilling time depends on whether you grill in a pan or on an outdoor grill. On a hot grill pan, about 2 minutes on each side is enough.
Serve with lemon wedges and mint leaves. Lemon pieces can also be briefly grilled.
also check
Comments