Green asparagus with burrata cheese and gremolata. Grilled green asparagus with burrata and herb gremolata
What is gremolata? Gremolata is a sauce that consists of chopped parsley, garlic, lemon zest and olive oil. Gremolata is an excellent addition to many dishes, and its preparation takes only a few minutes. This delicious herbal sauce will complement the taste of many meat, fish and vegetable dishes. It goes perfectly with cottage cheese, mozzarella or burrata.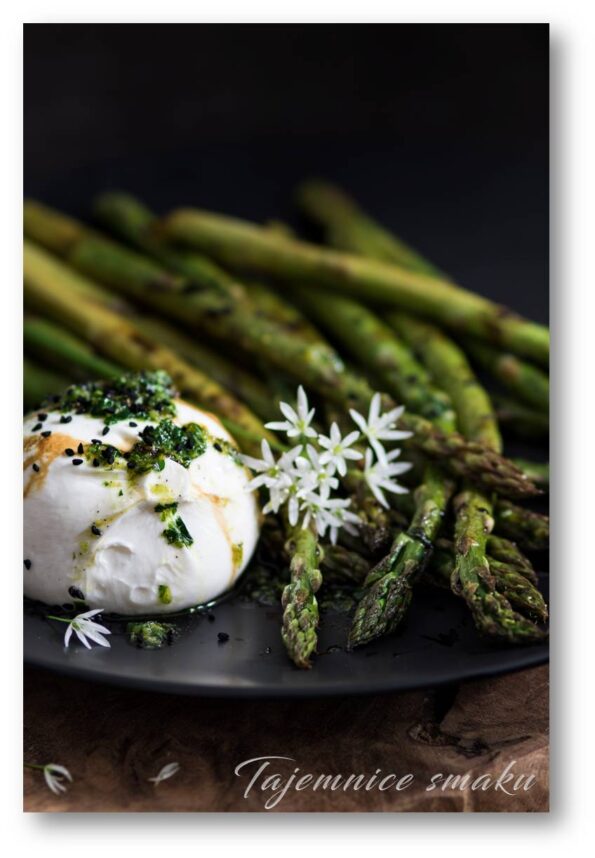 INGREDIENTS
ASPARAGUE
a bunch of green asparagus
2 tablespoons of olive oil
2 tablespoons of balsamic vinegar
a ball of burrata cheese or good quality mozzarella
salt
pepper
GREMOLATA
1 tablespoon of finely chopped parsley
1 teaspoon grated lemon zest
1 - 2 garlic cloves, grated or crushed
1 - 2 tablespoons of olive oil
salt
pepper
optionally a few chopped bear's garlic leaves in season
EXECUTION
GREMOLATA
In a bowl, mix grated lemon peel with chopped parsley, garlic, bear's garlic and olive oil.
Season with salt and pepper, mix and set aside.
ASPARAGUE
Wash the asparagus, break off the woody ends, dry with a paper towel.
We pour the asparagus with olive oil mixed with balsamic vinegar, season with salt and pepper.
We mix asparagus with spices, and preferably rub everything well.
Put the seasoned asparagus on a baking tray and bake in the oven under the grill for about 2 - 4 minutes.
Grilled asparagus is placed on a plate together with the burrata.
Sprinkle the whole thing with gremolata and possibly thick balsamic vinegar.
We serve right away!
also check
Comments