The asparagus season is short, so it's worth using this moment well.
Currently, we can supply imported asparagus all year round. However, they are the tastiest when they are in season and the best straight from the field.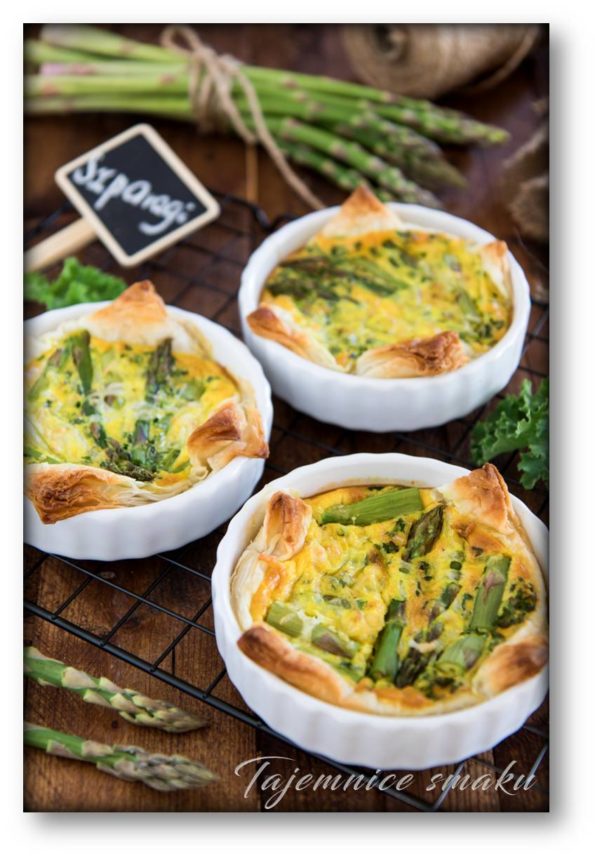 Puff pastry, store-bought. Why? Preparing puff pastry at home is simply time-consuming.
But there will come a day when I'll be tempted to make this delicate (and... fatty) cake myself.
We can blanch the asparagus briefly, but we don't have to. If we like crispy, al dente asparagus, we skip blanching.
Ingredients for 8 tartlets (12 cm diameter moulds)
375 g puff pastry (XXL packaging)*
1 bunch green asparagus
2 tablespoons chopped chives
2 tablespoons chopped kale leaves
200ml cream 30%
4 eggs
1 teaspoon turmeric
1/2 teaspoon grated nutmeg
8 tbsp grated smoked cheese
salt, pepper
Execution
Divide the puff pastry into 8 squares, line the molds with it, cover with baking paper and load it with ceramic balls or, for example, dry peas. Bake in an oven heated to 200°C for 10 minutes.
Clean the asparagus and cut off the hard ends. We can add raw or blanched asparagus to tartlets.
How to blanch asparagus? First, boil lightly salted water in a pot. Meanwhile, prepare a bowl with cold water and ice cubes. Put the asparagus into the boiling water for 2 minutes, then remove them with a slotted spoon and quickly put them into the ice water.
Mix cream with eggs, season with turmeric, nutmeg, salt and pepper.
Leave the oven preheated to 200°C.
Remove the weighted paper from the baked tartlets. Sprinkle the dough with chives and kale, lay out the asparagus cut into pieces, pour the cream and egg mixture and sprinkle with grated smoked cheese.
Put into the preheated oven and bake for about 20 minutes. Serve immediately after baking.
*We have different weights of puff pastry to choose from. It all depends on the manufacturer. If we buy a cake with a smaller weight, divide it into 6 squares.
We can also not divide the dough, but prepare one large rectangular tart, then extend the baking time by an additional 10 minutes.
also check
Comments