Crispy toasts with asparagus cheese and chili
Can you eat green asparagus raw? Of course they are, they are delicious and crunchy.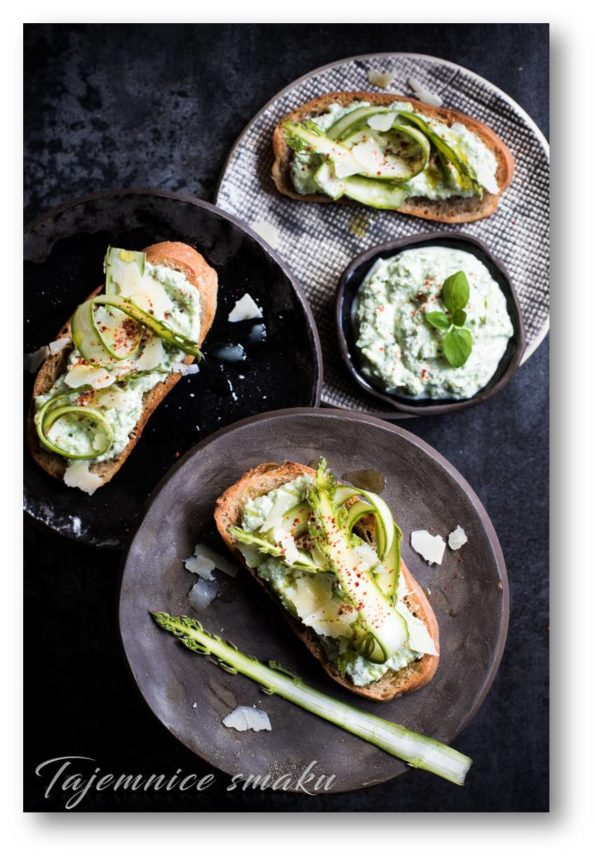 Crispy toasts with asparagus cheese are a delicious snack. I found the recipe in Jamie Oliver's book* and immediately fell in love with it. This is a great idea for a quick and delicious sandwich, for breakfast or dinner. We can prepare bruschetta from bread, rolls, baguettes or ciabatta.
INGREDIENTS
a bunch of green asparagus
a handful of fresh basil leaves
juice of 1/2 lemon
50 g finely grated parmesan cheese (or grana padano) and more to serve
250 g ricotta cheese
olive oil
6 - 8 slices of bread, I used ciabatta
1 clove garlic
salt
chili or gochugaru**
EXECUTION
Wash the asparagus, break off the woody ends, dry with a paper towel. Then use a vegetable peeler to cut a few nice ribbons from each asparagus. Set the asparagus ribbons aside, and what is left, cut into pieces, add basil leaves, a pinch of salt, lemon juice and pulsely blend. Add Parmesan cheese, 1 tablespoon of olive oil and blend again. At the end, add the ricotta, mix, try and season.
Fry the ciabatta slices in a hot pan with a bit of olive oil until they are golden and crispy, rub them with the sliced ​​garlic while they are still hot. Put the cheese and asparagus mass on the croutons, decorate with asparagus ribbons, sprinkle with grated Parmesan cheese, hot pepper flakes, and drizzle with olive oil.
* Recipe, with minor modifications taken from Jamie Oliver's book "Jamie Cooks Italian"
* *Gochugaru this Korean hot pepper flakes used to kimchi.
also check
Comments