Green asparagus wrapped in bacon. A delicious snack with the addition of garlic and ginger chips and a bit of teriyaki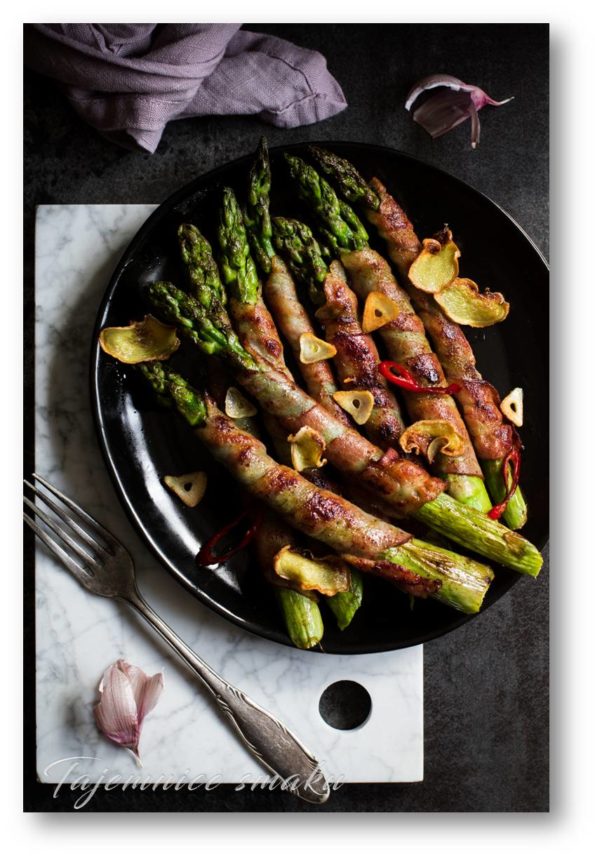 Asparagus wrapped in thin slices of bacon is a very tasty, and above all, easy and quick to prepare dish. The addition of garlic and ginger chips, a few drops of teriyaki and a bit of hot pepper will give the dish a slightly oriental character.
I got the idea for delicious ginger and garlic chips from Jamie Oliver "5 ingredients". Jamie added chips to quick steak stir-fry with asparagus in his recipe, which I must try sometime.
Ingredients
1 bunch of green asparagus
raw smoked bacon, as many slices as we have pieces of asparagus
4 cloves of garlic
a piece of ginger (4 cm)
piece of fresh chilli (3 cm)
2 tablespoons of teriyaki sauce*
1 - 2 tablespoons of cooking oil
Execution
Peeled garlic, ginger (with skin) and pepper cut into very thin slices. Spread on a cold non-stick pan add a tablespoon of olive oil and fry over medium heat. We often turn over, guarding so that they don't burn. The first of Remove the peppers from the pan before they turn brown. When garlic and ginger will be ruddy and crispy put them into a bowl and aromatic olive oil leave in the pan to fry the asparagus.
Wash the asparagus, break off the woody ends, dry with a towel paper. Wrap each asparagus with a slice of bacon. So prepared fry the asparagus in a pan until the bacon is browned, if it has bacon little fat, add a little more oil.
Spread the asparagus on a plate, sprinkle with teriyaki sauce, sprinkle with chili pieces and garlic and ginger chips.
*I recommend the recipe for Homemade Teriyaki Sauce with Soy Sauce and Honey
also check
Comments