<! - wp: image {"id": 2178} ->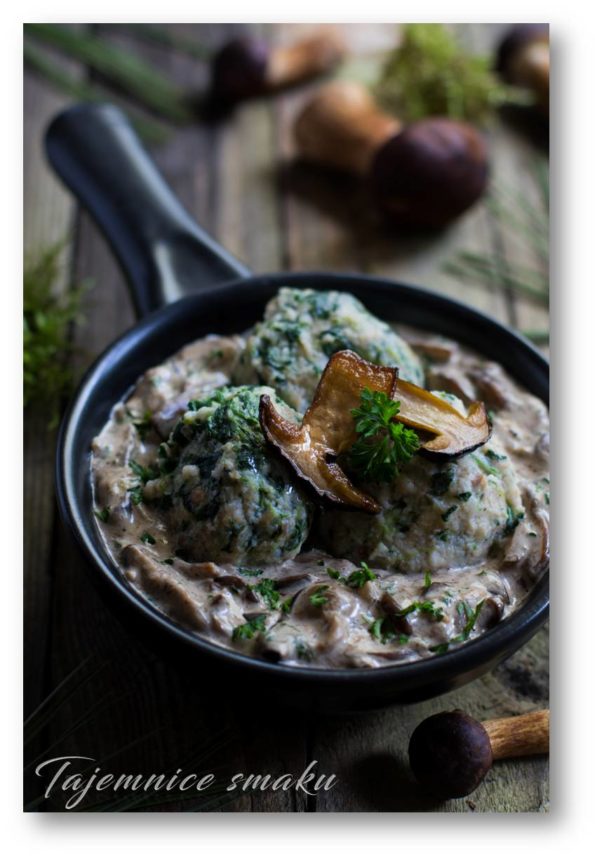 <! - / wp: image ->
According to the report of the Federation of Polish Food Banks "Don't waste food 2018", Poles throw away bread most easily (49%) *. How to prevent it? What can be made of stale bread? There are several ways, such as toasts for soup or salads, French toast which is egg-soaked and fried bread, toasts with cheese from the oven, and many more. We can also make dumplings.
Today I propose a vegetarian dish, spinach dumplings with mushroom sauce. An easy and tasty dish, and above all prepared in the spirit of zero waste, i.e. I cook, do not waste!
Dumplings can be prepared from any kind of bread. For me, however, the most delicious are those made of mixed, for example, rolls and sourdough bread. I made the sauce on the basis of fresh mushrooms, but in the off-season we can use mushrooms.
Ingredients
MUSHROOM RAGOUT, OR SAUCE WITH MUSHROOMS
250 g of fresh forest mushrooms (they can be out of season mushrooms)
1 onion
30 g of butter
100 ml of vegetable stock or water
100 g of mascarpone
1-2 tablespoons of chopped parsley
salt
pepper
nutmeg
SPINACH KNEDLE
200 g of dry, stale bread - rolls, bread, croissants
200 - 250 ml of milk
2 eggs
1 onion
1 clove of garlic
300 g of fresh spinach
1 tablespoon of oil
1-2 tablespoons of flour (optional)
salt
pepper
nutmeg
Execution
MUSHROOM RAGOUT, OR SAUCE WITH MUSHROOMS
Peel and dice the onion, clean the mushrooms and cut them in thin slices. In a frying pan, fry the onion in butter when it is soft add the mushrooms and fry until the mushrooms are golden brown. Season with salt, pepper and nutmeg. Water with hot broth or water, mix, add cheese mascarpone and parsley. Fry and stir for 2 - 3 minutes, until the sauce is slightly thickened, then take the ragout off the heat.
SPINACH KNEDLE
Cut the bread into small pieces. Heat the milk and make it hot pour the sliced ​​bread. If we have very dry pieces of milk bread, add a little more.
When the bread is soaked, prepare the spinach. Onions finely Cut and fry for about 3 minutes in oil, after 2 minutes add chopped ones Garlic. Add spinach leaves, fry until the liquid evaporates, salt and pepper, Season with nutmeg and cool.
Add the eggs, fried and to the soaked bread cooled down spinach and knead. If the mass is too loose, we can add 1-2 tablespoons of flour.
Boil water in a pot. Form balls with moist hands and throw them into the water. When they come out, simmer for 5 - 10 minutes and take out with a slotted spoon.
We serve dumplings with mushroom ragout.
Enjoy your meal!
* Source Banku resynosci.pl
also check
Comments