Crispy tart with chocolate and mango jelly
Short pastry tartlets with mango jelly and coffee-infused chocolate ganache. Long in the name, a bit laborious, but contrary to appearances, not very complicated dessert.
Homemade, delicious and elegant dessert - guests will melt over its taste, and that's what it's all about!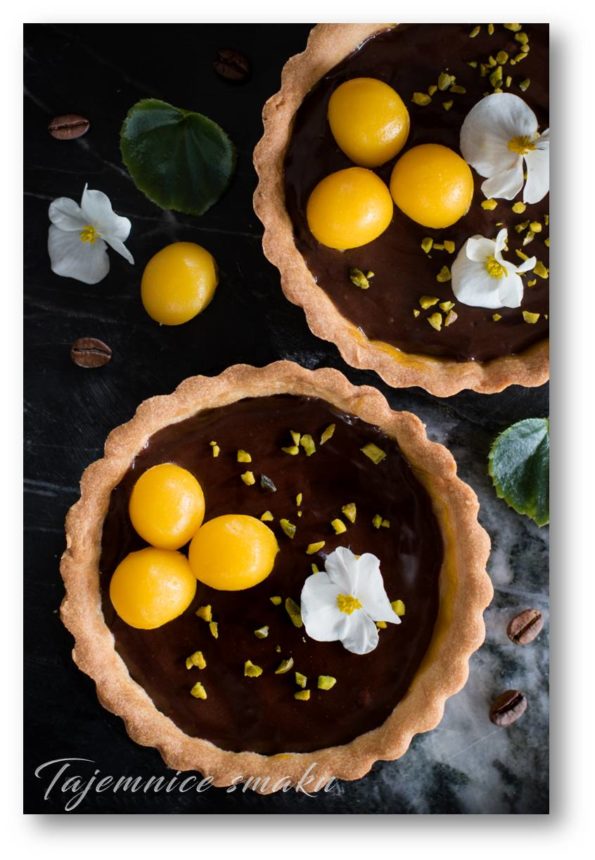 We can prepare the dessert in installments. The shortcrust pastry can be prepared the day before. We can do the same with mango jelly, the day before we can prepare the jelly and cut out balls from it. This way, half of the work is done.
What is an infusion?
Infusion, i.e. flavoring with additional ingredients, i.e. transferring the taste and aroma of a given ingredient to another product, in this case we infuse the cream with coffee.
Tartlets look beautiful decorated with edible flowers, e.g. ever-blooming begonia, which has crunchy petals with a surprisingly sour taste. *
Ingredients
Shortcrust CAKE**
200 g of wheat flour
120 g of butter
50 g of icing sugar
1 egg yolk
MANGO JELLY
500 g mango pulp (2 medium-sized fruits)
20 ml lemon juice
10 g sugar
20 g gelatine< /li>
50 ml of water
COFFEE INFUSED CHOCOLATE GANACHE
150 g 70% chocolate
150 ml 30% cream
1/2 teaspoon honey
20 g sugar
1 teaspoon of coffee beans
20 g of butter
FOR DECORATION
1 tablespoon of chopped pistachios
edible flowers, e.g. begonia, mint leaves
Execution
MANGO JELLY
Pour gelatine with water and set aside.
Mix the mango pulp into a mousse, put it in a saucepan, add sugar, lemon juice and heat it up. Remove from the burner and add the soaked gelatin to the hot mousse, mix thoroughly until it dissolves.
The best way to cool down is to pour the cooled mousse into a rectangular container lined with cling film and put it in the fridge to set the jelly.
When the jelly sets, cut out balls (with a special spoon for cutting fruit balls) in the amount of 3 pieces per tartlet. Transfer the balls to the fridge.
The remaining jelly is crushed, put into a bowl and re-heated (do not boil) by steaming in the so-called. water bath, just enough to change the consistency to liquid.
CAKE
We make shortbread dough from flour, butter, powdered sugar and egg yolk. Wrap it in cling film and put it in the fridge for about an hour.
Place the cooled dough into tartlet molds and prick with a fork. Cover with pieces of baking paper and load with dry beans, rice or ceramic balls.
Preheat the oven to 180°C and bake the tartlets for about 15 minutes.
Remove the weighted paper and bake for another 10 - 15 minutes, until the cake is browned.
COFFEE INFUSED CHOCOLATE GANACHE
In a small pot, boil the cream, honey, sugar and coffee beans.
Chop the chocolate very finely and put it into a glass or metal bowl.
Hot cream, through a sieve, straining coffee beans, pour chopped chocolate. Let it sit for a while, do not stir, so that the chocolate melts.
After a few minutes, mix until combined, add soft butter and mix with a blender.
Let it cool down.
TARTILLETS
Pour the cooled mango jelly over the baked and cooled tartlets and leave them in the fridge.
When the jelly layer is solid, spread the cooled chocolate ganache on it, decorate with mango jelly balls, and sprinkle with chopped pistachios.
Just before serving the dessert, we can decorate it with edible flowers or mint leaves.
* Małgorzata Kalemba - Yeast - "Edible flowers",
** Recipe for shortcrust pastry and ganache infused with coffee taken from cooking workshops run by sisters Pszczółka Justyna and Dorota - Homemade pastries
also check
Comments