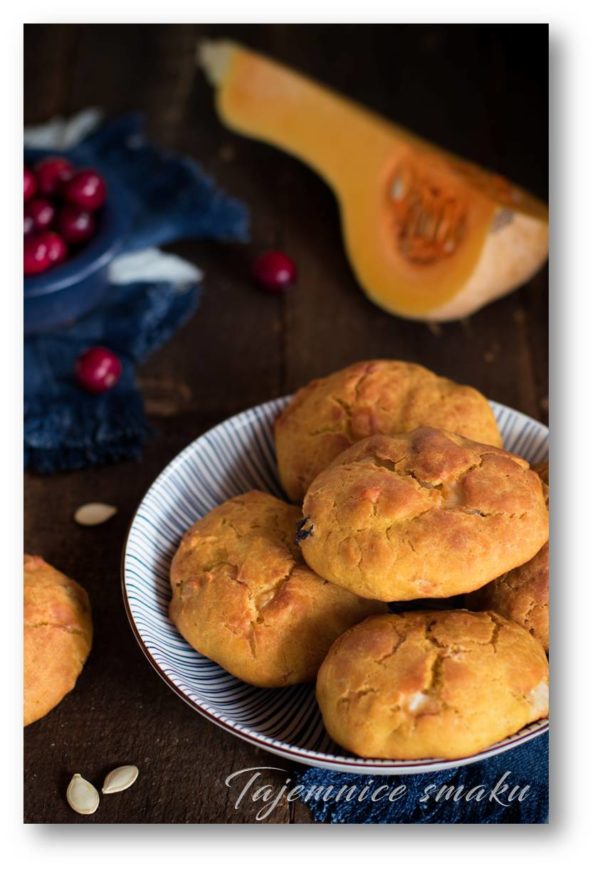 Pumpkin buns* without yeast, prepared with baking powder. An idea for a quick, savory snack, for breakfast or afternoon tea. After baking, they are crunchy on the outside and slightly soft on the inside. They taste good spread with butter, goat cheese or cranberry jam.
Pumpkin purée can be prepared the day before, freeze some, and leave some in the fridge for 2-3 days to use in buns, baguettes, soups or other pumpkin dishes.
Cut the pumpkin in half, remove the seeds together with the fibrous pulp. cut into small pieces. Place on a baking tray lined with baking paper, skin side down, and bake for about 40 minutes at 200°C, until soft. Once cooled, separate the flesh from the skin and blend to a smooth purée. Pumpkin purée can be portioned into bags and frozen.
Ingredients
125 g pumpkin purée
2 tablespoons olive oil
50g ricotta
2 eggs
200 g wheat flour
50 g cornflour
2 teaspoons of baking powder
50 g dried cranberries
50 g hard goat cheese
pinch of salt
Execution
Mash pumpkin purée with olive oil, ricotta and eggs with a fork. Add wheat and corn flour and baking powder, season with a pinch of salt.
Knead a smooth dough. Add dried cranberries and finely diced hard goat cheese, knead lightly.
With wet hands form small buns - we got 9 pieces - put them on a baking tray lined with baking paper.
Put them in the oven preheated to 180°C and bake for about 25 minutes until lightly browned.
Enjoy!
* Recipe taken from Kitchen Magazine 11/2017
also check
Comments