<! - wp: image {"align": "center", "id": 1810} ->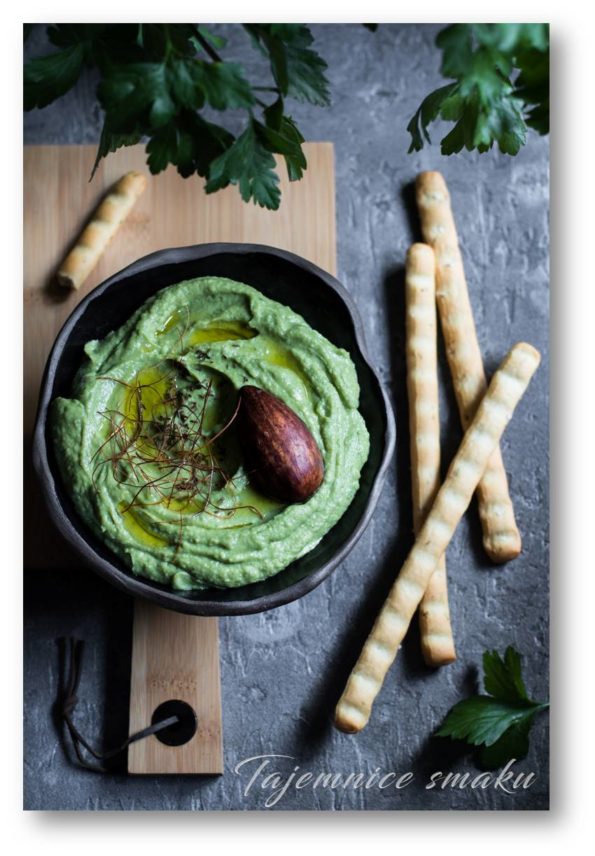 <! - / wp: image ->
Green chickpea and avocado paste is a marriage of two delicious dishes, hummus and Guacamole.
When we combine chickpeas and avocados together, we get a paste that is more aromatic than hummus and creamier than guacamole. For this parsley, lime juice, garlic, olive oil and we have a tasty, healthy and easy-to-prepare snack.
What matches green hummus? Like other spreads of this type, I like to serve with crackers, grissini sticks, crispy fresh vegetables cut into sticks. This also a perfect addition to bread, salads, burgers...
Green hummus is a tasty and healthy snack, it is a great idea for a quick dish party!
Ingredients
1 can chickpeas or about 250 g of cooked chickpeas (aquafaba, i.e. chickpea water we leave)
1 large avocado
2 cloves garlic
2 tbsp chopped parsley
1/2 tsp ground cumin (Roman cumin)
juice from 1/2 limes
salt, pepper
1 - 2 a pinch of chili
1 tbsp olive oil
Execution
Peel the avocado, remove the pit, and sprinkle the pulp lime juice. Drain the chickpeas, we peel the garlic.
Put all ingredients except avocado into a blender and mix for a smooth and velvety mass. At the end add the peeled avocado and mix. If the hummus is too thick, add it a little water (aquafaba), season to taste and a little longer we mix.
We can sprinkle before serving cumin seeds, dried chili and pour olive oil.
Enjoy your meal!
also check
Comments