Green smoothie made of kale, grapefruit and ginger with the addition of pumpkin seed oil - a smoothie for breakfast and for work
Green cocktails are full of vitamins, but not only from fruits and/or vegetables or green leaves. Most vitamins are water soluble, but vitamins A, E, D and K are fat soluble. To make the cocktail properly balanced and healthy, it is worth adding some healthy fat.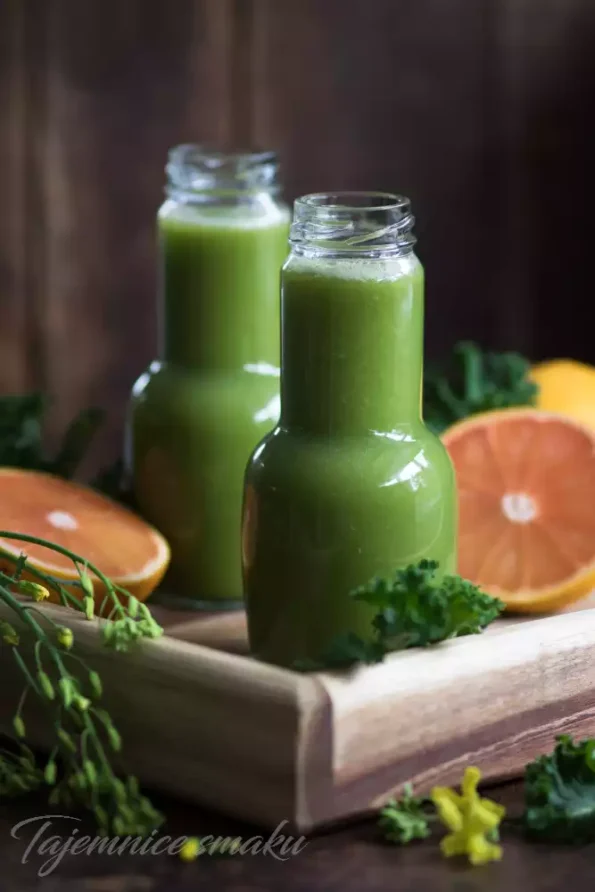 Pumpkin seed oil ennobles the taste of salads, dressings, pastes, as well as cocktails and desserts. Compared to other oils, pumpkin seed oil is distinguished by its dark green color and is also extremely healthy. The best pumpkin seed oil is cold-pressed (unrefined), of the highest quality and freshness.
Kale is one of the healthiest leafy vegetables, but it has a very distinctive taste that not everyone likes. So it's worth adding citrus to a kale cocktail. This time I combined kale leaves with juicy grapefruit, added a piece of ginger and a splash of pumpkin seed oil.
INGREDIENTS
150 g kale leaves, no hard stems
2 - 3 grapefruit (about 500 g peeled)
1 tbsp pumpkin seed oil
1 cm ginger
several sprigs of mint
a glass of ice cubes
water to top up
EXECUTION
Wash and dry all the ingredients.
Peel the grapefruit and ginger.
Put torn kale leaves, grapefruit pieces and ginger slices into the blender jug.
Add pumpkin seed oil and 100 ml of water.
Add ice cubes and blend for a smooth cocktail.
To obtain the consistency that suits you best, you can supplement the cocktail with water and mix it briefly again.
also check
Comments