Zero waste kitchen, i.e. I cook, I don't waste! Potato, cottage cheese and spinach cutlets breaded in Japanese breadcrumbs - panko
Very often, when I peel potatoes for dinner, I deliberately double the portion to prepare potato chops, dumplings or fried potatoes the next day. Dishes from the so-called yesterday's potatoes are "I cook, I don't waste" dishes.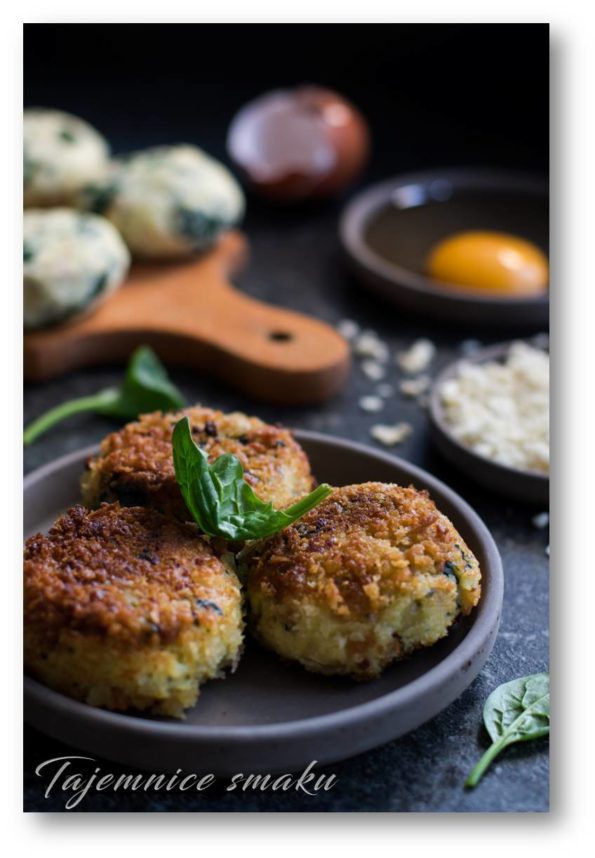 Potato chops can be coated in breadcrumbs before frying, but I really like and recommend Japanese panko coating.
Panko is a Japanese breading in the form of flakes prepared from white bread without crust. It is characterized by greater crunchiness than breadcrumbs and much lower absorption of fat during deep frying.
INGREDIENTS
600 g of boiled potatoes
300 g of semi-fat cottage cheese
100 g of smoked bacon (omit the vegetarian version)
100 g of onions
200 g of fresh spinach
1 clove of garlic
salt
pepper
2 - 3 eggs
panko for breading
frying oil
EXECUTION
Squeeze the boiled potatoes through a press or, if they are still hot, mash them with a potato masher.
Grind the cottage cheese with a fork.
We cut the bacon and peeled onion into cubes.
In the pan, fry the bacon, add the onion and fry until the onion is translucent.
Remove the bacon and onion from the pan and briefly fry the spinach with the crushed garlic in the remaining fat. You can add a bit of oil if necessary.
In a bowl, mix potatoes, cheese, spinach, bacon with onion and one beaten egg, season with salt and pepper.
We form medium-sized cutlets with wet hands.
Drop the chops in beaten egg, then in panko and fry over medium heat until golden.
We serve them right away, they taste best freshly fried, then the panko is very crispy.
The chops can be served with yoghurt sauce with garlic or tzatziki, they also taste good with a salad made of mixed lettuce and tomatoes.
also check
Comments