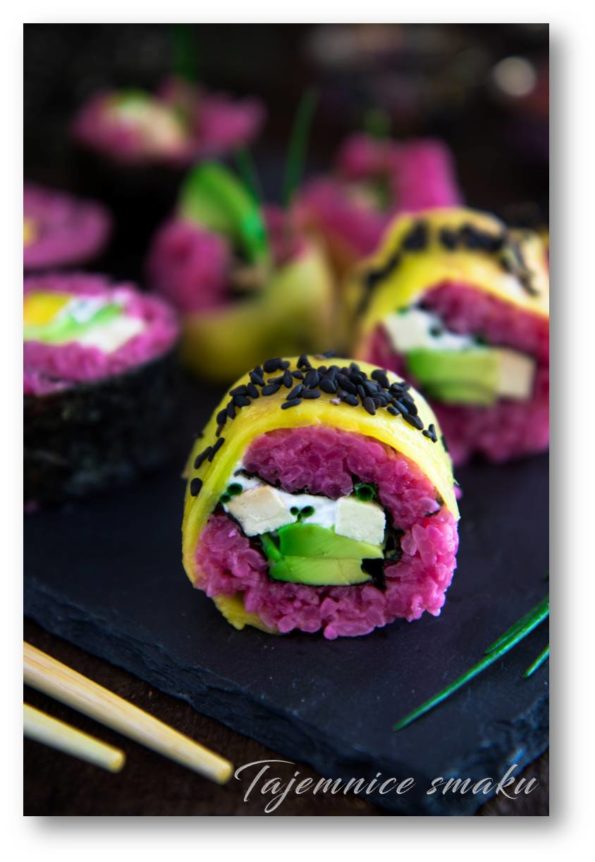 Pink sushi ... It may be a fad, but how appetizing and colorful.
We suggest using some of the rice prepared for traditional sushi (recipe FOR RICE FOR SUSHI) and coloring with beet juice.
Pink trend not only in fashion, but also on the plate!
Inredients
ROW RICE
500 g cooked and seasoned rice (while still warm)
3 - 4 tablespoons of fresh beet juice
Additions for SUSHI
nori
smoked cheese tofu
avocado
cream cheese (Philadelphia)
chive
mango
wasabi
black sesame
TO SUBMIT
wasabi
soy sauce
marinated ginger
Execution
Prepare the filling, that is, cut the avocado and tofu into strips of similar size, part of the mango into thin flakes, part into strips.
Pink rice
Still warm and seasoned rice is gently mixed with beet juice, cooled and rolled into sushi.
Maki
On a bamboo mat, place nori, spread rice evenly on it, leaving about 1.5 cm of free space on each side. Spread a little wasabi in the center with your finger, spread with cream cheese, arrange strips of tofu, avocado, mango and a few sprigs of chives and roll by pressing the bamboo mat so that all the ingredients "stick" together. Cut into 2-3 cm pieces.
Reverse rolled rolls (sakamaki)
Wrap a bamboo mat with cling film, place a handful of rice directly on it, spread evenly and cover with a sheet of seaweed. We spread some wasabi on the nori with our finger, spread with cream cheese, arrange strips of tofu and avocado and a few sprigs of chives. We roll the whole thing analogously to sushi maki. We arrange thinly sliced mangoes on top and once again squeeze with a mat. Sprinkle with black sesame seeds and cut into 2-3 cm pieces, serve with wasabi and soy sauce, biting through with pickled ginger.
Tasty!
also check
Comments