Delicious, refreshing and healthy salad: oranges, chicory, shallots and cheese
This salad is a real explosion of flavors - bitter and tart chicory, intensely sweet-sour-bitter red oranges, spicy shallot and sheep's Roquefort with a strong salty taste, here's what's going on...
There is power!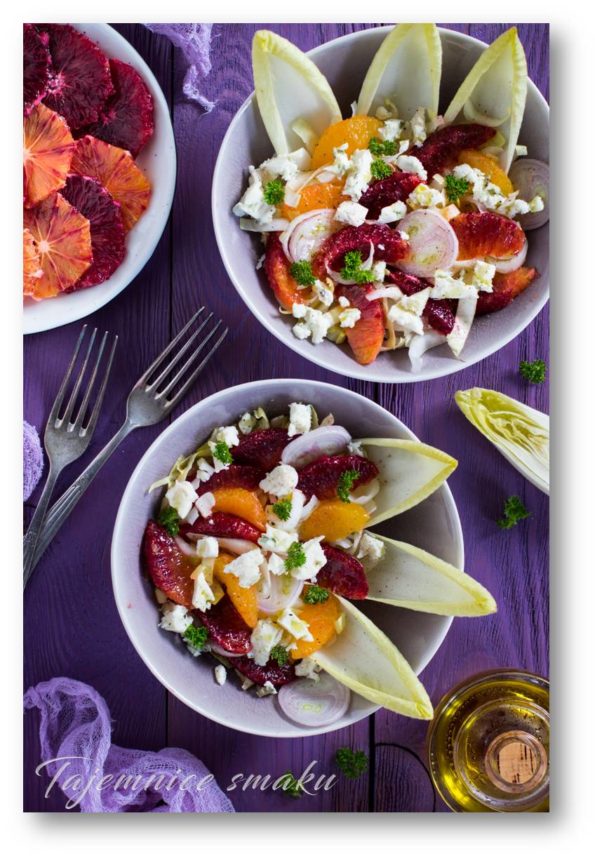 Lettuce chicory is a plant whose leaves have a bitter and astringent taste. This bitter aftertaste can be reduced by soaking the chicory in water before serving. However, we do not soak the chicory. Bitter taste is said to be the key to better health, as bitter foods stimulate digestion.
Ingredients for two servings
SALA
2 - 3 heads of chicory - about 200 g
1 tablespoon of lemon juice
1 small shallot
2 red oranges
25g of Roquefort cheese
parsley for decoration
SOS
1 tablespoon of orange juice (squeezed from filleting residue)
1 tablespoon of olive oil
1 teaspoon of honey
Salt
Pepper
Execution
SOS
Mix the ingredients for the sauce together, season with salt and pepper
SALA
Clean the chicory from the withered leaves, cut out the bitter scapes. Set aside a few leaves whole for decoration, cut the remaining chicory into thin strips. Place the chopped chicory in bowls and sprinkle with lemon juice.
Peel the oranges and fillet them.
To fillet an orange well, all you need to do is peel it properly. Use a sharp knife to cut off the top and bottom of the fruit so that the flesh is visible. Then we put the orange upright and cut the peel together with the white albedo. From the fruit prepared in this way, use a sharp and thin knife to cut out the fillets from between the white membranes.
Add the fillets to the chicory, squeeze the juice from the rest of the orange with your hand.
Cut the peeled shallot into thin slices and add to the salad.
Pour the salad with the sauce, sprinkle with gently crumbled roquefort cheese and chopped parsley. For decoration, we cover with whole chicory leaves.
If you like salads with oranges, I also recommend the recipe Orange salad , olives and onions
also check
Comments