Homemade pastries - recipe for orange yeast cake. Orange challah, delicious braided baba baked in a round mold
Chalka is yeast bread, which we usually prepare in the form of a braided braid. This orange challah is also braided, but a little differently. Thanks to this technique, we can place the braided dough in a round mold and bake it like a yeast cake.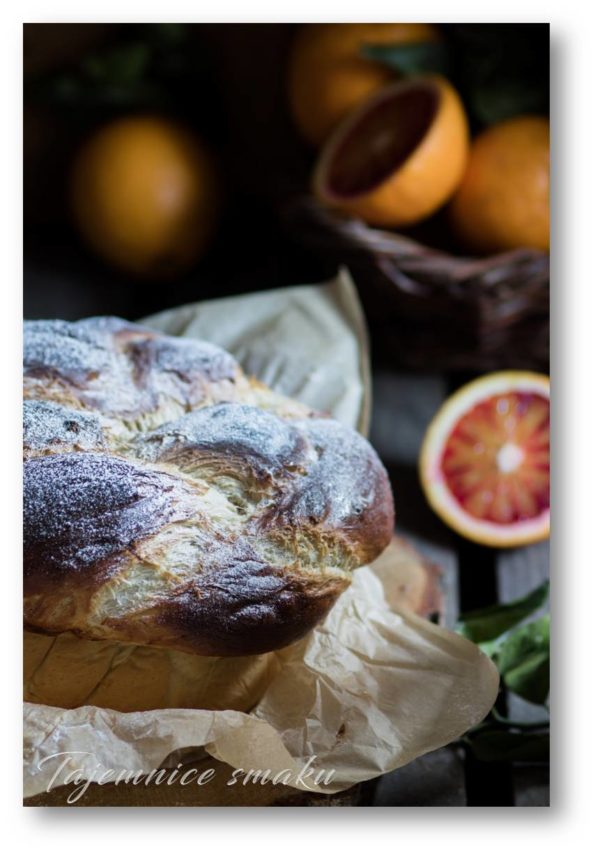 Cake and oranges. Add orange juice and zest, candied orange peel and orange liqueur to the challah. So the challah is very orange.
Sprinkle the baked and cooled challah with powdered sugar. You can also smear it with honey punch while still hot. The cake will be even more orange. To prepare the punch, we need to mix a tablespoon of honey with a little orange liqueur or juice.
The best way to bake this challah will be a mold with a diameter of 26 cm. We can also bake the cake in a slightly smaller mold, then the challah will be higher, like the one in the picture.
INGREDIENTS
GROUT
100 ml of milk
50 g of flour
25 g fresh yeast
5g of sugar
RIGHT DOUGH
leaven
500 g of flour
60 g of soft butter
2 eggs
80 ml of juice and grated orange peel
60 g of honey
50 ml of milk
1/2 teaspoon of salt
30 g candied orange peel (diced)
20 ml of orange liqueur
ADDITIONAL
yolk spread
1 tbsp orange blossom water (optional)
powdered sugar for sprinkling baked challah
EXECUTION
Start - mix yeast with milk, sugar, flour in a bowl, cover and leave for about 15 minutes.
Mix the honey with the milk until it dissolves.
Add milk with honey, juice and grated orange peel, eggs, salt, candied orange peel and liqueur to the sourdough.
Knead the dough, at the end add melted and cooled butter, knead.
Cover the dough with a cloth and let it rise for about 45 minutes, until it doubles in size.
Put the risen dough on a floured board and divide it into 4 parts.
For each portion, form a roll about 60 cm long.
Weave the rollers according to the scheme from the photo, and wrap the ends of the dough underneath.
Put the braided challah into a round mold lined with baking paper, cover with a cloth and leave to rise for about 30 minutes.
Just before baking, brush the challah with egg yolk or egg yolk mixed with orange blossom water.
Bake at 180°C for about 30 - 40 minutes.
After baking, we take out the challah together with the paper and put it on the rack.
After cooling, sprinkle with powdered sugar.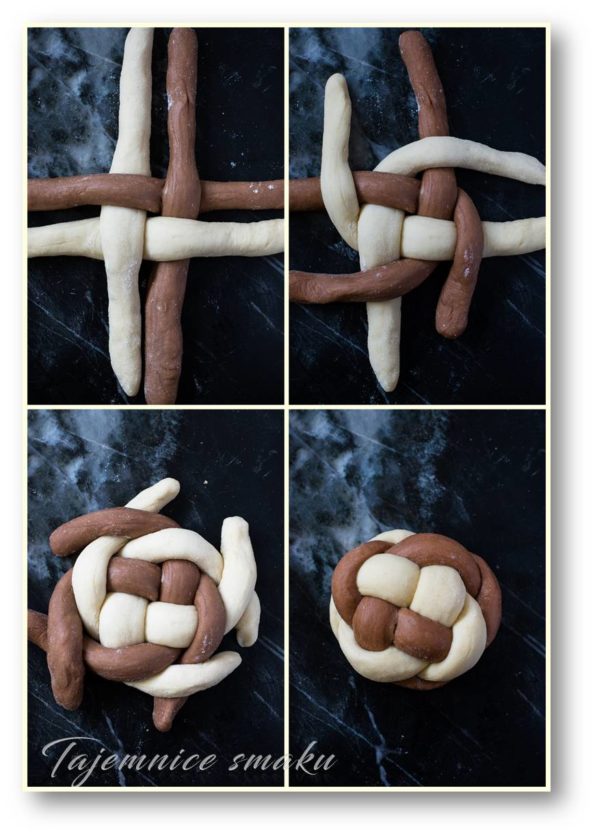 Instructions for plaiting challah - photo from the recipe for braided buns with chocolate crumble< /a>
also check
Comments