Herb bread with tomato marinara sauce. Garlic yeast buns - knots
Marinara sauce is a traditional Italian sauce based on ripe tomatoes and herbs. It is very easy to prepare and is delicious provided that we use good tomatoes. I recommend pelati tomatoes, they have a rich flavor, they are peeled and completely dipped in passata.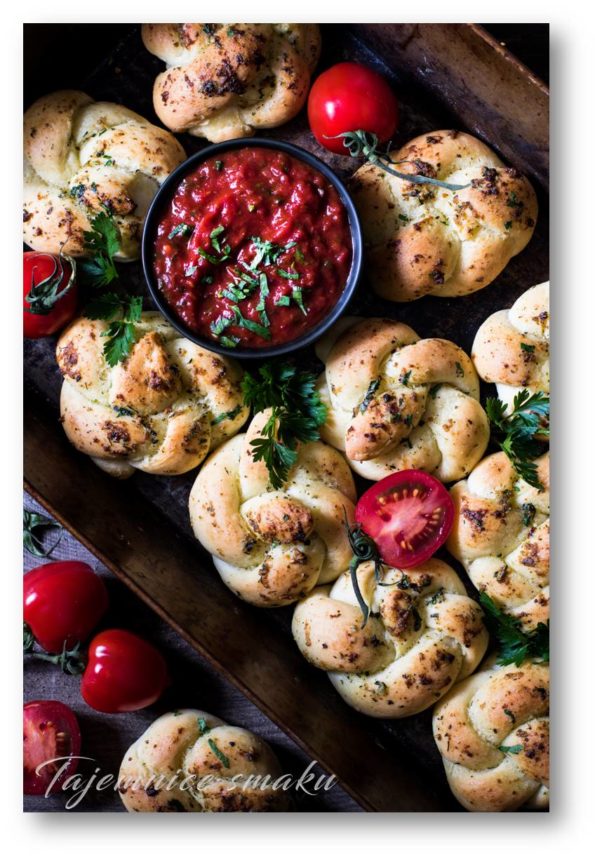 Did you know that pelati is not the name of a tomato species? Pelati means that they are just peeled tomatoes.
Knots (knots) are nothing more than small yeast buns. And why knots? Because each portion of the cake is tied like a knot before baking ;-)
INGREDIENTS
KNOTS
400 g of flour  - I use type 00, like for pizza
15 g fresh yeast
280 ml of 3.2% fat milk
1 teaspoon of powdered sugar
1/2 teaspoon of salt
30 ml olive oil
HERBAL BUTTER
100 g of butter
1 - 2 cloves of garlic
1 tbsp chopped parsley
3 teaspoons of dried spices - mix: pepper, garlic, basil, dill, parsley, ginger
MARNARA SAUCE
400 g tinned pelati tomatoes
1 medium-sized red onion
3 cloves of garlic
2 tablespoons of tomato paste
50 ml dry red wine
2 tablespoons of olive oil
chilli powder to taste
salt, pepper
EXECUTION
BUNS - KNOTS
Herb butter - melt the butter, add spices, grated garlic and chopped parsley, mix.
Pour milk into a bowl, crumble yeast, add powdered sugar, stir until yeast dissolves.
Add the flour, mix until combined, cover and set aside for about 30 minutes.
We add salt to the dough and start kneading. We can knead the dough by hand or in a mixer with a hook.
Knead the dough until it starts to peel off from the sides of the bowl (or from your hands).
Add a tablespoon of olive oil and knead again until the dough absorbs the fat.
Cover the bowl with the kneaded dough and leave it at room temperature for about an hour.
Put the risen dough on a floured surface and divide it into 20 parts. From each portion of the dough form a roller, then tie it into a knot, and wrap the ends inside.
Place the knots on a baking tray covered with baking paper, cover and leave for about 30 minutes.
Preheat the oven to 200°C.
Just before baking, grease the knots with half a portion of herbal butter.
Bake for about 25 minutes until golden.
Still hot, spread with the remaining herb butter.
Serve hot or cold with tomato marinara sauce.
MARNARA SAUCE
Dice the onion and fry it in olive oil, add chopped garlic, fry for a while.
Water with wine and after about 2 minutes add tomato paste, mix.
Then pour the tomatoes out of the can and break them up preferably with a wooden spoon.
Fry over medium heat, season with salt, pepper and chili.
At the end, add chopped parsley.
The sauce can be served both hot and cold.
also check
Comments