Homemade sourdough bread and pickled jalapeno peppers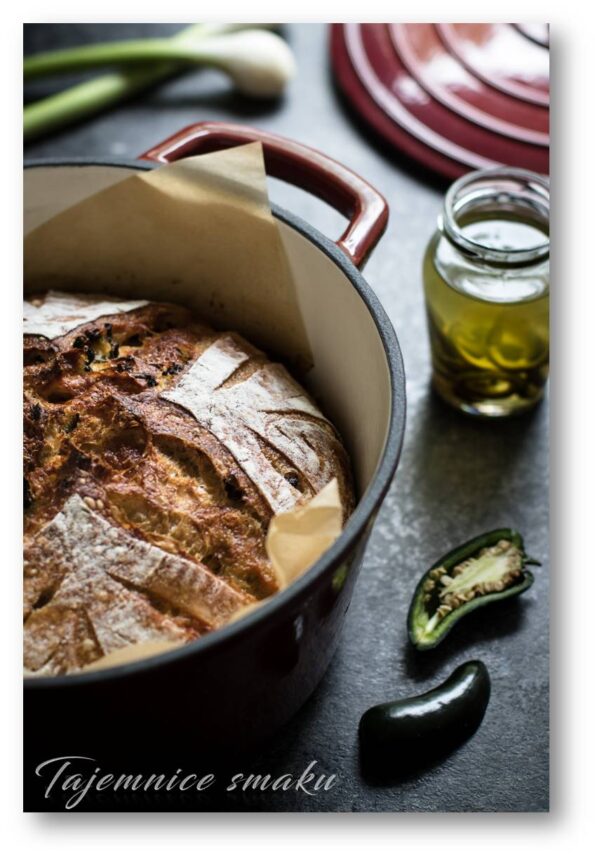 Invitation to Amber Bakery - sourdough bread with jalapeño and cheddar
"Our Bakery invites you for August delicious bread! Drop the stereotypes - what?! Bake in such heat?! In the tropics you bake and fry all the time and no one complains about the temperature. Let's just enjoy baking together and good taste. Bread is the best food under any circumstances. Let us bake!". Yes, Ania encourages us to bake together. So I abandoned stereotypes and chose one of the hottest days in August. On my thermometer, in the shade on the terrace, the temperature was 35°C. So there is a challenge, but when we take care of our sourdough and treat it tenderly, it can return the favor, even in such difficult conditions.
Another difficulty was getting pickled jalapeños, but I managed to buy fresh ones, so I marinated them.
Preparation of sourdough bread requires good planning and adapting the entire creation process to your daily rhythm. For example, I am going to provide a schedule according to which I usually prepare bread:
07:00 - mixing active sourdough with flour and water
17:00 - autolysis
17:30  - kneading the dough
18:00 - submission
18:30 - submission
19:00 - submission
19:30 - submission
20:00  - rest on the board
20:30 - loaf forming, basket, proofing in the fridge
07:00 - 12:00 - baking
Ingredients
BREAD
50 g active sourdough, I use wheat
360g water
280 g wheat bread flour type 750
200 g all-purpose wheat flour type 500
20 g wholegrain wheat flour
9 g fine sea salt
50 g pickled jalapeño peppers, diced
100 g cheddar cheese, diced
10 - 15 g chopped chives
PICKLED JALAPENO
100 g of fresh jalapeno peppers
100 ml of water
20ml vinegar
10g of sugar
1/2 teaspoon of salt
1/4 teaspoon of mustard seeds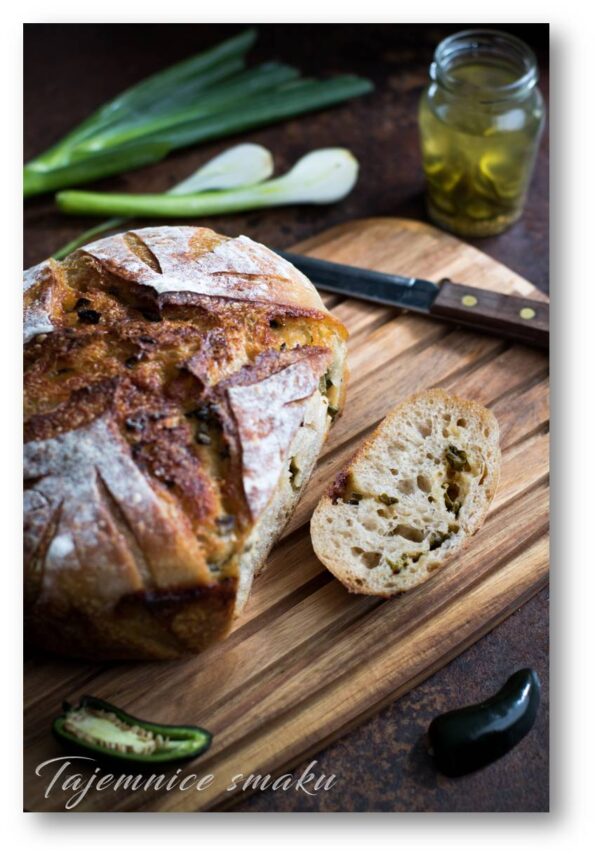 Execution
PICKLED JALAPENO
Pepper is cleaned of seeds and cut into thin strips or rings, put into a jar. In a pot, boil the remaining ingredients and pour the hot marinade over the peppers, close the lid immediately and set aside. In this recipe, I added  paprika to the bread, which was marinated in a jar for 24 hours.
BREAD
In a bowl, mix the sourdough starter with water, add the flour, mix until the ingredients are combined and leave for about 30 - 45 minutes.
Then add salt, knead thoroughly. Cover the bowl and leave it in a warm place for about 3 hours. During fermentation, the dough is folded three/four times with an interval of about 30 minutes.
How to fold bread? I recommend Katharina Arrigoni tutorial
30 minutes after the last folding, gently slide the dough onto a table sprinkled with flour and leave it for about an hour. Then gently stretch the dough and sprinkle cheese, jalapeno and chives on top. Fold the dough into an envelope and form a loaf. Put the loaf into a floured basket (or, for example, a bowl lined with linen and also sprinkled with flour). Cover the basket with, for example, a linen cloth and put it in the fridge for about 10 - 16 hours.
The next morning we preheat the oven to 240°C. When the oven is already heated, only then take the cake out of the fridge and put it into a cold pot lined with baking paper. Cover the pot and bake for the first 10 minutes at 240°C, then lower the temperature to 220°C and bake for another 25 minutes with the lid on. After this time, remove the lid and bake for another 10 - 20 minutes or until the loaf is golden brown and sounds hollow when tapped. Take the baked bread out of the pot and let it cool down on a grate.
Enjoy!
Bread on blogs:
Acacia blog
Lilies of the valley in the kitchen
Gucio's kitchen
Kitchen door
My little magic
Gardens of Babylon
Old pots
Taste secrets
Kitchen retreat
Weekends at home and garden>
Recipe for sourdough bread with jalapeño and cheddar comes from Zesty South Indian Kitchen
also check
Comments