Plums, almonds, pumpkin seeds, sweet crumble and juicy fruit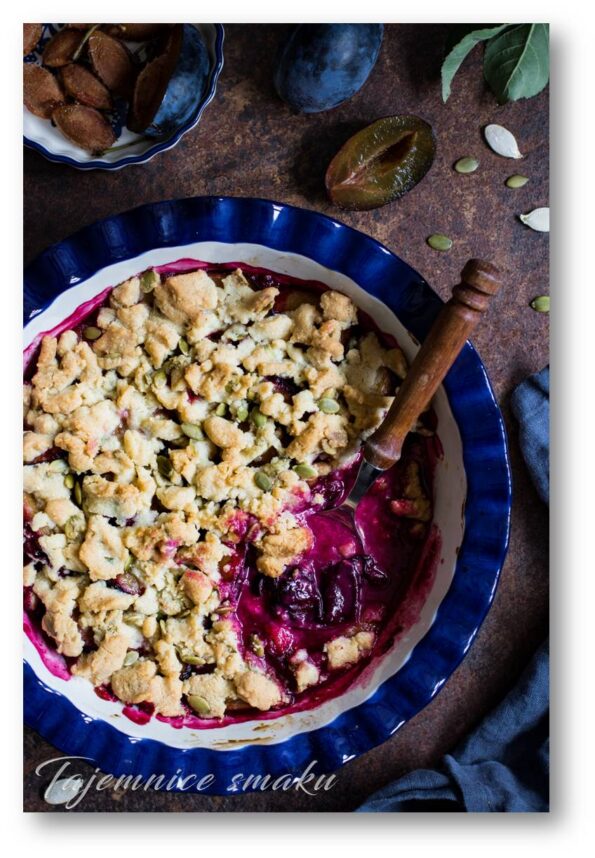 When I feel like something sweet, I have no idea and too many ingredients I look for inspiration in cookbooks. This time I stopped for a dessert from Nigel Slater's book Zielona feast, autumn, winter - juicy fruit with almond crumble, crumble with plums.
This is not the first dessert of this author who stole my heart and pampered my palate. Plums with almond crumble is a simple, quick and delicious dessert, just the way I like it.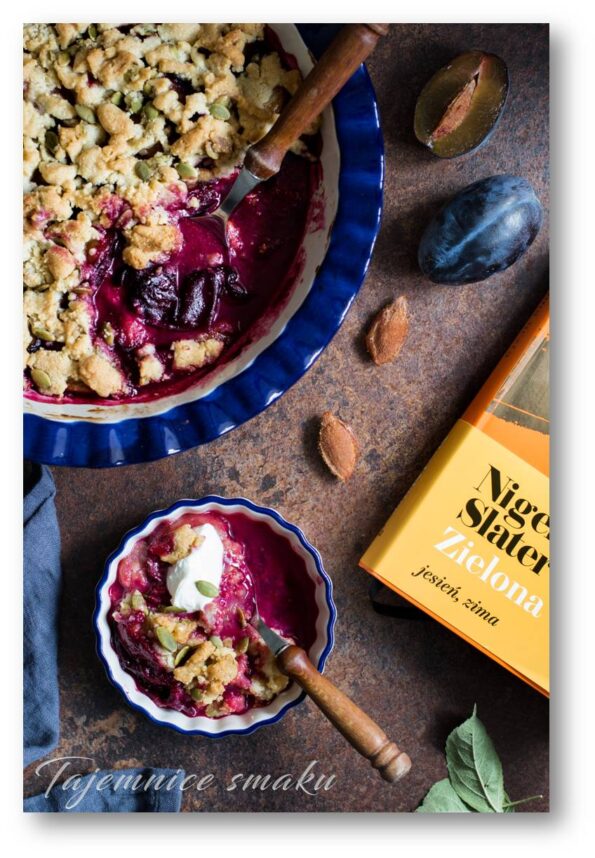 In the recipe book, the list of crumble ingredients includes sunflower seeds, I replaced them with pumpkin seeds, because that's all I had at home. Dessert can also be prepared from frozen plums, without defrosting the fruit.
Ingredients
750 g of plums
2 tablespoons of sugar
Cream:
90g butter
75 g of wheat flour
75 g ground almonds
40g of sugar
3 tablespoons of pumpkin or sunflower seeds
sour cream, to serve
Execution
Cream. Cut the butter into small cubes and rub with your fingertips with the flour and ground almonds into fine crumbs. Add sugar, beat it for a while and finally add pumpkin or sunflower seeds. If we sprinkle the crumble with a few drops of water and shake the bowl, some of the crumbs will stick together into larger pieces and the crumble will gain a more interesting consistency. The crumble can also be prepared in a food processor.
Preheat the oven to 180°C.
Plums are washed, pitted and placed skin side down on the bottom of a heat-resistant dish with a diameter of about 24 cm. Cover the plums with the crumble and bake for about 30 minutes, until the fruit boils against the sides of the dish and the crumble turns golden. Dessert can be served with sour cream.
Enjoy!
also check
Comments