Big woman with belly button, leavened dough with raisins and cinnamon filling
In March Amber Bakery baking sourdough dough together lievito madre from the recipe from the blog Kuchnia Gucia. It is not a difficult cake to prepare, it just requires a good plan and patience. To bake this cake, we need to prepare lievito madre sourdough beforehand. Only on the third day after setting lievito madre can we make the dough. According to Gucio's recipe, the already risen dough is spread with cinnamon mass, rolled up and placed in molds (e.g. fruit cakes). I made some modifications, rolled the dough into a roll, then joined the roll into a wreath and transferred it to a large paella pan lined with baking paper. When the dough rose and was baked, a big woman with... a belly button came out.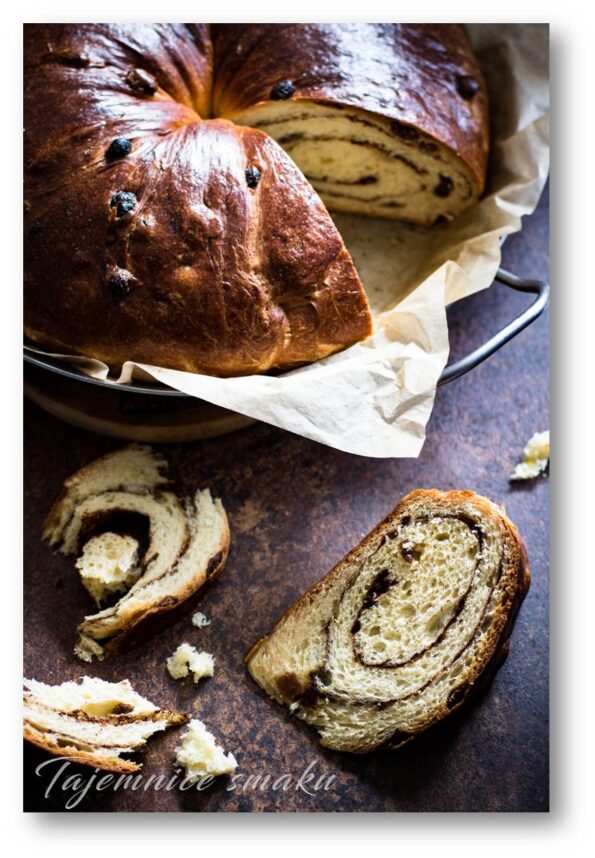 Pasta madre italiana or Italian wheat sourdough. It is less acidic than sourdough for bread and is therefore ideal for sweet pastries, such as panettone. water and flour, in which wild yeast and lactic acid bacteria develop.  This wheat sourdough is made of white flour without the use of baker's yeast. Oil or honey is used in Italy to start fermentation, yeast and lactic acid bacteria. In southern Italy, olive oil or honey is added tomato juice, and in Latin America ripe bananas or grapes. You can also add grape must, sugar, raisins." The fragment of the text comes from Ania's blog entry Kitchen door. Ania writes about how to make, store and feed the Italian lievito madre sourdough.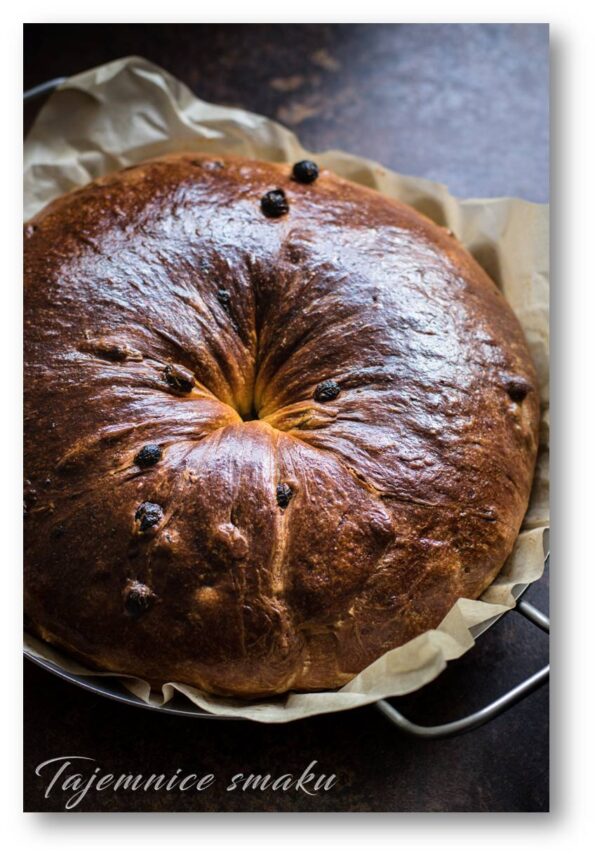 Ingredients
LIEVITO MADRE KVASS
25 g of sourdough starter
1/8 teaspoon of honey
25 g + 25 g + 50 g wheat flour (type 500 or 750)
12g + 12g + 25g water
CAKE
750 g of flour (I used half of wheat flour type 500 and half of bread flour type 750)
250 ​​ml warm milk
160g of sugar
4 whole eggs
100 g of melted and cooled butter
100 ml of oil (I use grape seed oil)
125 g lievito madre
150 g of raisins
pinch of salt
peel of 2 oranges
CINNAMON MASS
35 g of soft butter
30 g dark Muskovado (or cane) sugar
8 - 10 g ground cinnamon
Additional egg and a spoonful of milk to spread on the cake
Execution
LIEVITO MADRE LEAVEN
How to make lievito madre wheat sourdough?
DAY 1 - evening
25 g of sourdough starter
25 g of flour
12 g of water
1/8 teaspoon of honey
day 1 in the evening - mix all the ingredients well, cover and set aside at room temperature (18-22°C).

DAY 2 - morning
25 g of dough from on the first day (throw away the rest or fry placuszka )
25g flour
12g water
Day 2 in the morning - 25 g of dough mix well with the other ingredients and leave at room temperature (18-22 °C) until the evening.

DAY 2 - evening
50 g of dough from day 2 in the morning (discard the rest)
50 g of flour
25 g of water
2 day evening - 50 g of dough mix well with the other ingredients and leave at room temperature (18 - 22 ° C) until the next morning.
Levito madre can now be used for baking.
CAKE
Combine the ingredients for the cinnamon mass and rub with a teaspoon into a uniform mass.
Lievito madre is dissolved/stirred in warm milk.
Pour the raisins with hot water.
In the bowl of the robot, beat the eggs with sugar until white and the sugar is completely dissolved. Add sourdough mixed with milk, grated orange peel, flour and salt. Change the mixer to the hook and knead the dough until the ingredients are well combined. Then, without stopping kneading, slowly add melted and cooled butter (spoon by spoon), then oil (in 3 - 4 portions).
Knead about 5-6 minutes on the first speed and 5-6 minutes on the second speed.
Drain the raisins in a sieve and sprinkle with flour. Add to the kneaded dough, preferably already on the counter. A good way is to stretch the dough on the worktop and sprinkle raisins evenly, then fold the dough (e.g. in an envelope) so that the raisins are evenly distributed throughout the dough. Transfer the dough to a bowl, cover with cling film and leave to rise. The dough should double in volume.

The risen dough is taken out onto the worktop, degassed and stretched into a rectangle. Smear with cinnamon mass and roll up very tightly. We can divide the dough into portions corresponding to fruit cake moulds, or, like me, combine the roller into a wreath and place it on a pan lined with paper or a large round form. We cover the dough with cling film and leave it to rise for about 2 -3 hours so that it (almost) doubles in size.
Grease the risen dough with an egg beaten in 1 tablespoon of milk.
Bake the cake in an oven preheated to 170 - 175°C for about 40 - 50 minutes, if it takes on color too quickly, you can cover it with aluminum foil.
Leave the baked cookies in the form for about 10 minutes and remove them very gently onto a cooling rack.
Enjoy!
Casto on lievito madre on blogs:
Acacjowy blog< /a>
Gucia's kitchen
< a href="https://www.kuchennymidrzwiami.pl/babka-na-lievito-madre-z-zurawina-i-kremem-tahini-marcowa-piekarnia/">Kitchen door
My little magic
Gardens of Babylon
Secrets of taste
also check
Comments