Sourdough waffles, recipe from the Tartine Bread book by Chad Robertson
A hundred years ago, French bakers used to bake bread with natural sourdough. In order to obtain "lighter" bread, they combined natural sourdough with brewer's yeast, which was a by-product of beer production. When baker's yeast appeared (second half of the 19th century), bakers approached them with great reserve. They mixed the flour with water and a small amount of yeast and left it to ferment for several hours. This pre-fermented mixture came to be called poolish leaven and was used in conjunction with natural levain sourdough.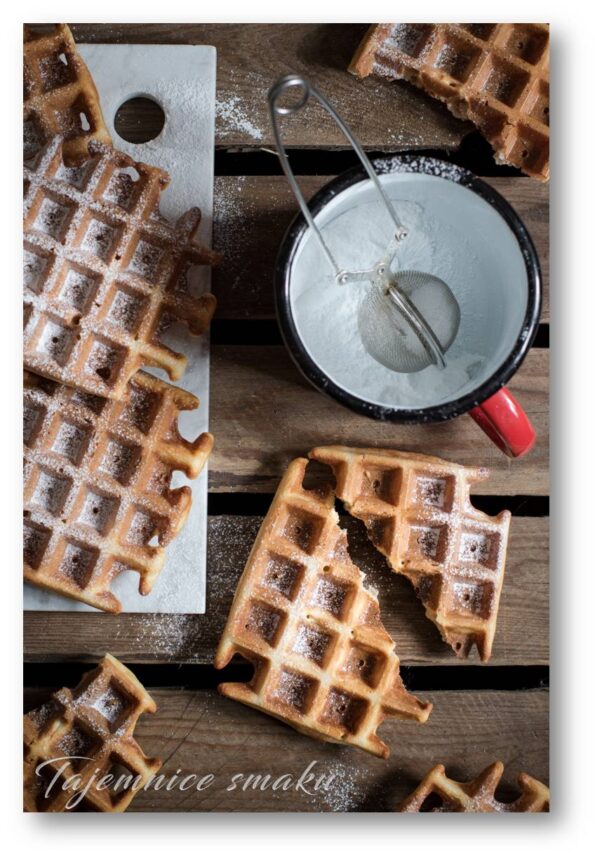 Sourdough and poolish waffles
Thanks to the combination of fresh sourdough with poolish, the waffles will get a characteristic depth of flavor, coming from fermentation, but without a sour note. A delicate and crunchy texture is obtained thanks to a mixture of low-gluten flours and corn starch.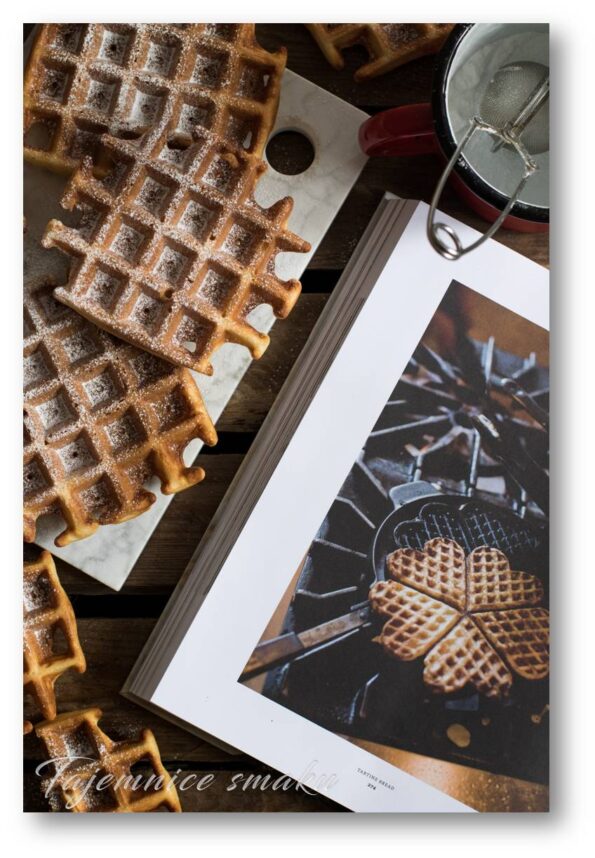 Ingredients
sourdough
20 g of sourdough starter
200 g of lukewarm water
200 g of flour (I used a mix, half and half - wheat type 750 and spelled type 650)
POOLISH
fresh yeast - a pea-sized ball
10 g of bread flour type 750
10g warm water
Waffle dough
all sourdough starter
all poolish
250 ​​ml of warm milk (preferably 3.2%)
80 g flour type 500
80 g cake flour
80 g cornstarch
40 g of sugar  - (30 g for the dough, 10 g for the proteins)
5g of salt
30 g of melted and cooled butter (plus, if necessary, to lubricate the waffle iron)
3 eggs (yolks separated from whites
1 tbsp vanilla extract or vanilla sugar
Execution
The evening before baking waffles
In one bowl we mix the ingredients for sourdough, in the other for poolish. Cover both bowls with cling film and leave them on the kitchen counter until morning.
WAFF BAKING DAY
Put the sourdough and poolish into a large bowl. add warm milk, mix. Add egg yolks and melted butter, mix. Gradually add the sifted flour, 30 g of sugar and salt, stirring to combine the ingredients. Cover the bowl and leave in a warm place (27-29°C) for 3 - 5 hours to ferment. The longer the dough ferments, the more intense its flavor will be.
Just before frying the waffles, beat the egg whites with the remaining sugar in a bowl until the foam is stiff. Add vanilla to the dough, mixing until combined, and then whipped egg whites.
Heat up the waffle iron and, according to the manufacturer's instructions, grease (or not) with butter. Pour the dough in portions and bake until golden brown. Serve with your favorite toppings or just sprinkled with powdered sugar.
I recommend the recipe for Waffles with wheat sourdough and buttermilk
also check
Comments