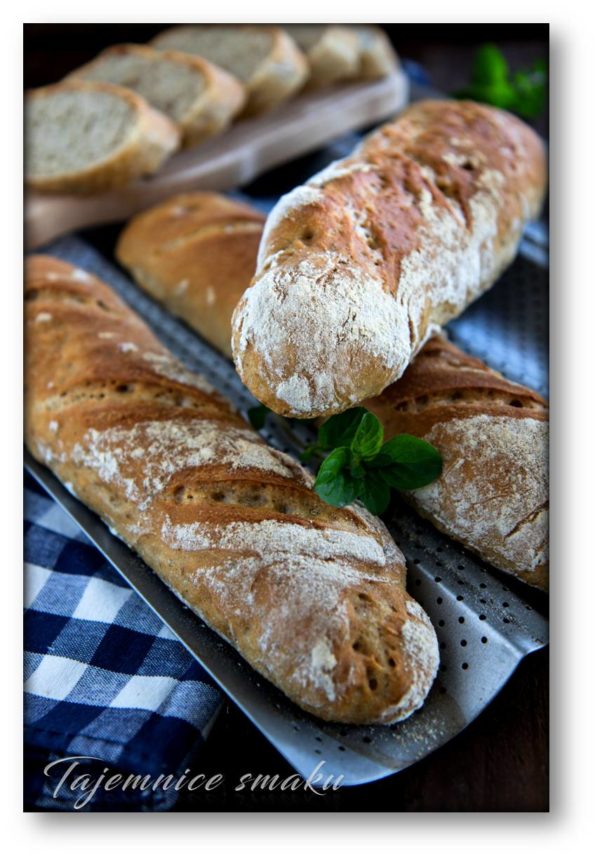 Sourdough for sour rye soup, natural, on rye flour is the most important ingredient of traditional soup for Easter.
But what to do with such sour rye soup, when we prepare or buy it "just in case" more?
We can make another soup, but the family screams after Christmas... noooooo! How much can you do?
What to do with sourdough for sour rye soup apart from soup? slightly sour, the best because home made.
Ingredients
Start
< br> 25 g of fresh yeast
50 ml of warm water
1/2 teaspoon of sugar
1 tablespoon of bread flour type 750
Cake

leaven
500 ml sour rye soup - rye leaven for sour soup (homemade or store)
700 g of bread flour type 750
1 tablespoon of dried marjoram
1 teaspoon of salt
sprinkle flour < / p>

Execution
Get started
Mix all the leaven ingredients together in a small bowl, p cover with a cloth and set aside in a warm place for about 30 minutes.
Baguette dough
In a large bowl, mix all the ingredients for the dough, add the leaven, knead, cover cloth and set aside to double in volume for about 1-2 hours. Yeast is a living organism, rising time depends on the conditions in our kitchen.
Divide the dough into four parts. Form a baguette sprinkled with plenty of flour from each of them. Place them on a special baking tray for baguettes. Cover the baking tray with baking paper.
Cover the formed baguettes with a cloth and leave to rise again for about 30-40 minutes.
Heat the oven to 250 ° C, put a heat-resistant bowl with water on the bottom of the oven.
Just before baking, cut the baguettes with a sharp knife and put them in the preheated oven. Bake for about 20-25 minutes.
Enjoy your meal!
also check
Comments