Tincture of young pine shoots - pine tincture recipe
To prepare pine tincture, we use young pine shoots (young growths at the ends of twigs). The best time to harvest such shoots is early May, but it all depends on the region and the weather. Be sure not to pick all the young growths from one pine tree, as such a procedure will prevent further growth.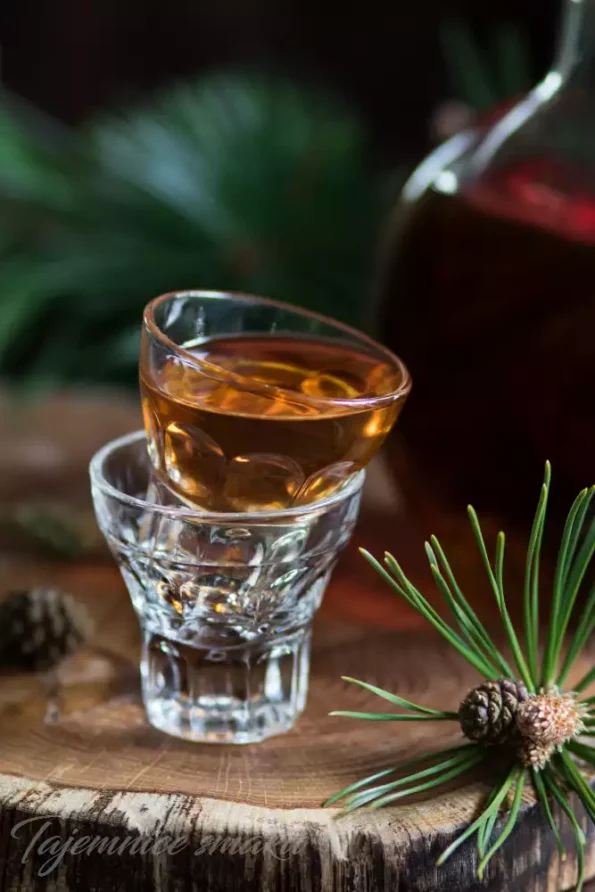 Preparing tincture on young pine shoots is easy and very quick in the first stage. Later, however, we need to be patient, but it is worth it. In autumn and winter, it is worth having a bottle of pine tincture in the home medicine cabinet on standby. Pine tincture has antibacterial and anti-inflammatory properties. It is helpful for colds, sore throats or coughs. Of course, in reasonable quantities and only for adults!
INGREDIENTS
1 kg of young pine shoots
700 g of sugar
1 l of 70% liquor
1 lemon
Make
We wash the lemon and rub off the peel. Peel off the remaining white peel and cut into slices. If the lemon has seeds, we get rid of them.
In a large jar, we arrange young pine shoots in layers. Longer shoots can be cut into pieces. We lightly whisk each layer, add two slices and a part of the grated lemon peel, sprinkle a portion of sugar. The last layer is sugar, but before we add it we sprinkle the whole thing with 100 ml of alcohol. Screw the jar and set it aside in a warm, sunny place for a week.
After a week, when the sprouts have already let go of juice we add the remaining alcohol. Tightly cap the jar and again set aside in a sunny place for about 3 months. From time to time we shake the jar and press the shoots so that they are fully immersed in the liquid.
After 3 months, we pour the liquor through a gauze folded several times, preferably into a large bottle, a pitcher or a jar. We also strain the remaining shoots through the gauze. We set the jar with the tincture aside for another 3 months. After this time, gently, pour the liquid from above the sediment into smaller bottles.
From young pine shoots we can also prepare pine syrup
also check
Comments