<! - wp: image {"align": "center", "id": 1618, "className": "is-style-default"} ->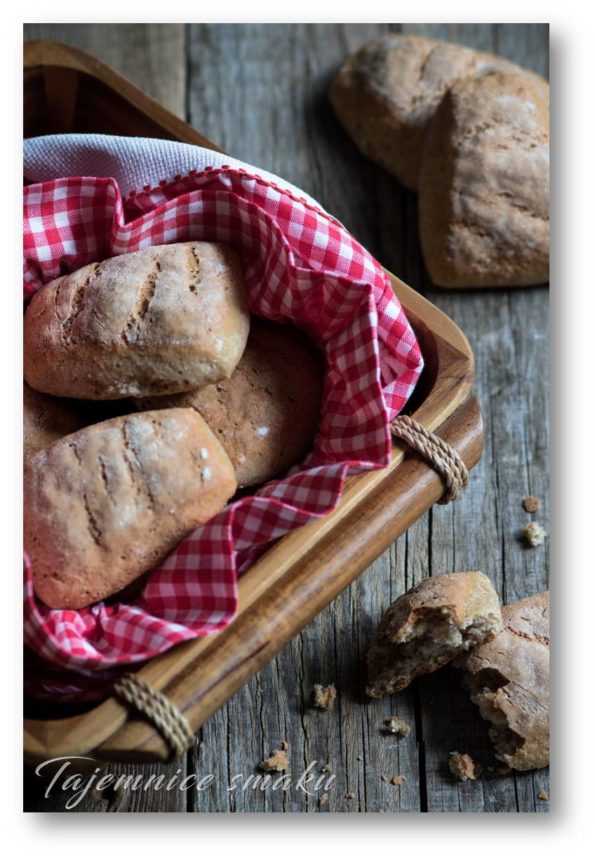 <! - / wp: image ->
Homemade rolls are the best, without unnecessary "improvers", fillers or preservatives. Such rolls have a shorter shelf life, but are more valuable. Even if they become stale faster than they are bought, we can dry them and grind them into our own breadcrumbs.
Usually, this recipe is made into round rolls from the dough. This time I rolled the dough, flattened the resulting rolling pin and cut the trapezoidal rolls with a knife at an angle.
Ingredients
START
30 g of fresh yeast
1 teaspoon of sugar
50 ml of lukewarm milk
50 g of wheat flour
CAKE
250 g of buckwheat flour
250 g of common wheat bread flour, type 750
1 teaspoon of salt
250 ml of milk
Execution
START
Crush the yeast in a glass bowl and cover it with sugar. Then pour lukewarm milk, add flour and mix. Cover the bowl with a cloth and put it in a warm place to rise for 30 minutes.
CAKE
Combine both flours, add salt and mix. Pour the milk and yeast leaven into the flour, knead the dough. Form a ball of the dough, put it in a bowl dusted with flour and cover it with a cloth. Set aside in a warm place to rise for about 1.5 hours. The dough should double in size.
Put the risen dough on the pastry board, knead for a while. We can divide the dough into 12 parts and make round rolls or roll it into a rolling pin and cut it into any shape with a knife.
Place the rolls on a baking sheet covered with baking paper, keeping the spaces, cover with a cloth and set aside in a warm place to double the volume for about 30 minutes.
Bake the risen rolls in an oven preheated to 230 ° C for about 15 minutes.
Enjoy your meal!
also check
Comments