Sourdough bread with poppy seeds and linseed
At the April bakery Amber oat breakfast bread with poppy seeds and linseed < /strong>from Gucia.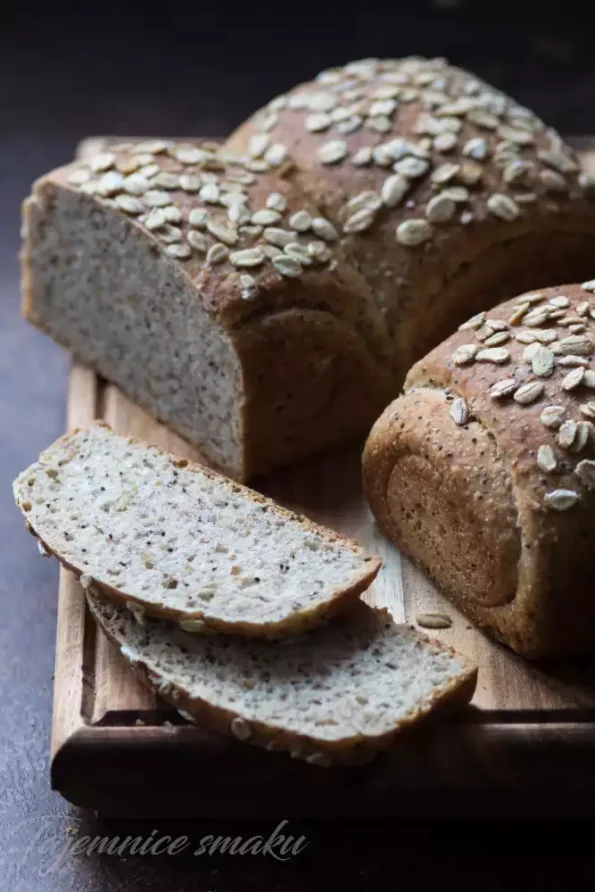 We prepare the bread with a sweet starter, thanks to which it is slightly sweet and slightly sour. Oat flakes, poppy seeds and linseed additionally enrich the taste of the bread.
I baked the bread in a mold measuring 11 x 25 cm, so my baking is not too high. If you want a taller bread, either prepare a double portion of bread or in a smaller form.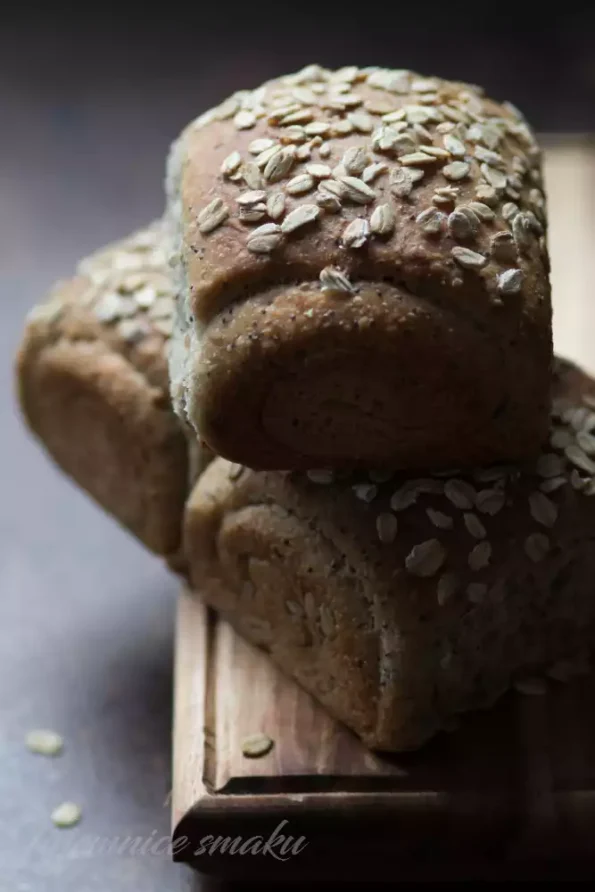 Breakfast oats with poppy seeds
Sourlotti by Abby recipe
INGREDIENTS
STARTER
15 g sourdough starter
15 g wheat bread flour
15 g water
SWEET STARTER
45 g of active starter (prepared)
50 g of bread flour
12.5 g of water
12.5 g of sugar
CAKE
180 g bread flour
20 g whole wheat flour
120 g sweet starter
20 g sugar
3 g of salt
10 g of powdered milk
10 g of poppy seeds
10 g of linseed
130 g of milk
25 g butter
Oat flakes to sprinkle on loaves
PORRIDGE
EXECUTION
STARTER
Mix the ingredients, cover and leave in a warm place for 4 - 5 hours.
SWEET STARTER
Mix the ingredients, cover and leave overnight.
PORRIDGE
Pour the petals with hot water, cover and leave overnight.
CAKE
Mix all the ingredients except the butter and knead for about 5 minutes until the gluten mesh is formed quite well.
Then add butter piece by piece and knead until a gluten mesh is formed.
Divide the dough into two or three parts and form into balls. Cover with a container or cling film and leave for 20 minutes. Then we roll out the portions of the dough into oblong rectangles and put the long sides on the right and left sides inside. Roll out after folding and roll up.
Spray the rolled rolls with water and roll them in oat flakes. Put it into a mold greased with oil or butter, cover and leave to rise for about 3 - 5 hours until it doubles in volume.
Preheat the oven to 180°C and bake for 35 - 40 minutes until slightly brown. We cool on the grate.
Bread on blogs:
Acacia blog
Lilies of the valley in the kitchen
Gucia's Kitchen
Kitchen Door
My Little Magic
Gardens of Babylon
Polish soup
Family plant-based
Secrets of taste
also check
Comments