<! - wp: image {"id": 1844} ->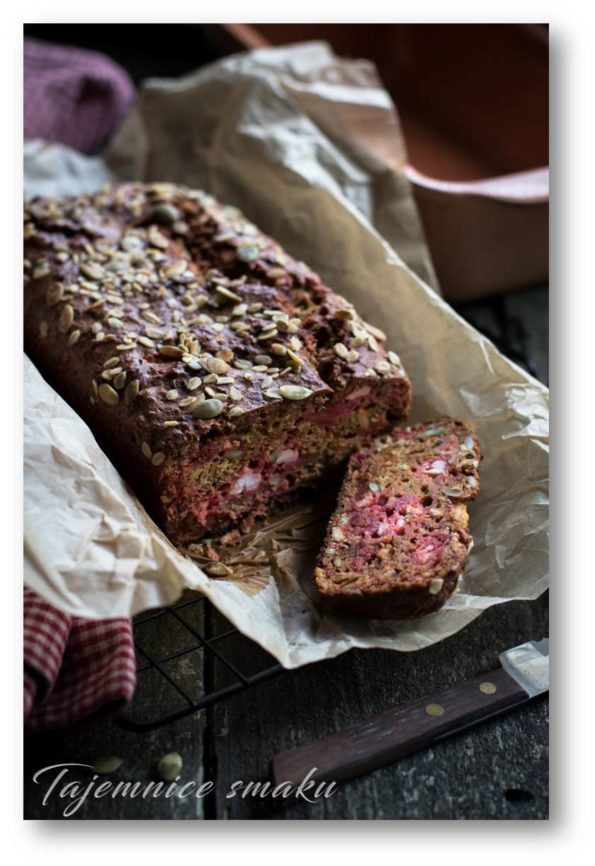 <! - / wp: image ->
I found the recipe for this bread in the book Yotama Ottolenghi "Straight". When I started reading the long list of ingredients, I got a little scared, but after analyzing it, I found almost everything at home. I only swapped wholemeal flour for plain flour, goat cheese for feta, and cream for yoghurt. You have to manage somehow.
I had a bigger problem when the bread was already baked. What's that flavor? We tried piece by piece and no one could define how to categorize this baking. For me, the bread worked great as an addition to a fresh vegetable salad. It was also tasty with creamy white cheese, such a sandwich for breakfast. Still, I wonder what else the beetroot bread will go well with?
Ingredients for 20 cm cake tin
50 g of oatmeal
1/2 teaspoon of dried thyme
1 teaspoon of cumin
1 teaspoon of black cumin
50 g of pumpkin seeds

200 g of all-purpose flour
2 teaspoons of baking powder
1/4 teaspoon of baking soda
20 g of grated Parmesan cheese
200 g of peeled, finely grated beetroots

2 eggs
80 ml of oil
80 ml of natural yoghurt
1 tablespoon of honey
120 g of hard feta cheese, crushed into pieces
Execution
The oven is heated to 180 ° C with hot air. A mold lined with baking paper.
In a bowl, mix oatmeal, thyme, pumpkin seeds, cumin and black cumin.
In a larger bowl, mix flour, baking powder and baking soda. Add the grated beets, a mixture of flakes and seeds (1 tablespoon is left in scattering the bread). We don't mix it up, set aside.
In another bowl, combine eggs, oil, yoghurt, honey and Parmesan cheese. Pour into a bowl with beets, mix everything with a spatula. Add the feta cheese and mix very gently, trying not to rub the feta cheese.
Put the dough into a mold, sprinkle with the rest oat flakes and seeds. Bake for 40 minutes and then cover tightly with aluminum foil and bake for another 40 minutes, until a dry stick. Place the baked bread on a metal grid with the side to it sprinkled with seeds the mountains, let them cool down.
Enjoy your meal!
also check
Comments