Stuffed chocolates with pistachio and mint sprinkles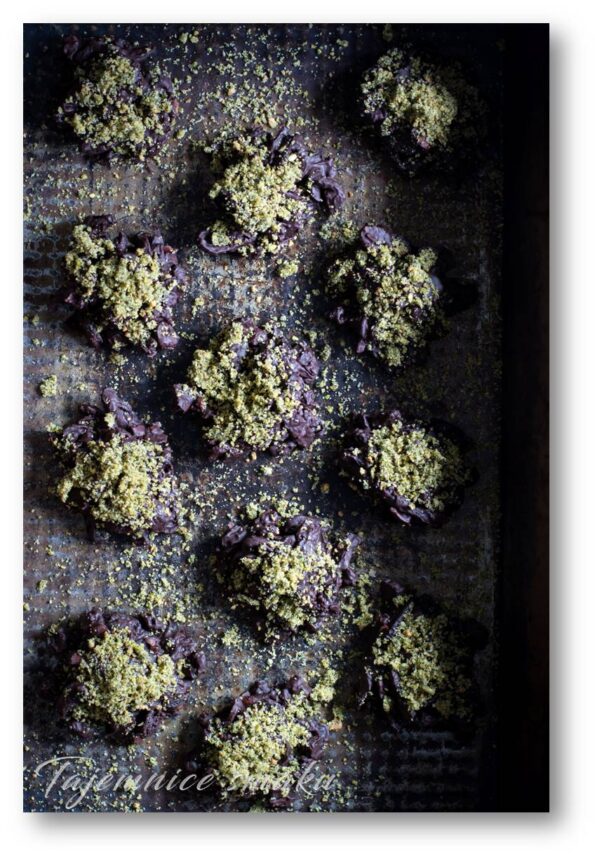 How to quickly turn ordinary chocolate into a unique dessert? It's simple, just combine your favorite nuts and dried fruit with melted chocolate and create completely new, elegant sweets. Such stuffed, handmade chocolates are also a great idea for a gift.
The recipe for chocolates comes from Nigel Slater's book A green feast: fall, winter This is a very simple and quick idea for sweet, autumn and winter pampering...
Ingredients for 12 chocolates
CHOCOLATES
100 g dark chocolate
60 g  prunes                      
60 g dried apricots                   
40 g shelled hazelnuts
40 g raisins   
Sprinkle
15 g shelled pistachios
10 pieces of mint leaves
10 g white sugar
Execution
Sprinkle
Pistachios, mint leaves and sugar are placed in a food processor and blended to a pale green powder.
CHOCOLATES
Plums and apricots are cut into thin strips, hazelnuts are chopped. Line a baking sheet or other flat dish that will fit in the fridge with baking paper.
Break the chocolate into pieces, put it in a heat-resistant bowl set over a pot of simmering water. Melt the chocolate, trying not to mix, but from time to time slide, preferably with a silicone spatula, the unmelted pieces into the liquid chocolate. Remove the bowl from the pot and add the raisins, chopped apricots, plums and nuts to the chocolate. Gently mix everything together until the chocolate coats all the nuts. Scoop the batter with a spoon and place portions on a baking tray or other dish lined with baking paper. Sprinkle with green pistachio powder, sugar and mint. We put it in the fridge to solidify the chocolates.
Enjoy!
also check
Comments